Long Warmups and Why Double Rest Days Suck: Matt Samet on Turning 50
Heading out the door? Read this article on the new Outside+ app available now on iOS devices for members! Download the app.
I'll be turning 50 later this month. To some readers, this will sound "very old." To others, it might sound "very young." To me, it doesn't feel like much of anything. That's the weird thing about aging: You don't necessarily identify as your age ("Today, I am 50. So I'll go out and do some old-person shit because I'm old"); you just identify as you. The rest of the world may think otherwise, because they see your outward physical manifestation. But unless I look in the mirror—and count the wrinkles on my brow or gray hairs in my head (impossible!)—I really have no way of measuring my age other than through lived experience.
I will have nearly 35 years on the rock when I clock a half-century. I'll also have a lifetime spent in the mountains, going back to the day hikes in the Sandia Mountains, New Mexico, I'd take with my parents as a child. There is something special about that desert range, which rises from a mile above sea level at its foot, in the cactus-studded, boulder-riddled foothills, to an alpine environment lush with aspens and ponderosa, and beetling with massive buttresses of pink granite, in its upper reaches. As a child, switching back up the seven-mile La Luz Trail, I'd stare in awe at the cliffs and wonder what it took to climb them. Back down at the trailhead, I'd ask my parents to spot me while I played on the rounded boulders, scrambling up their slabbier, xenolith-studded facets in low-top sneakers.
These were my first climbs.
The "50 Challenge"
A lot of climbers set a big goal on their fiftieth birthday: go to the Valley and tick a wall in a day, do 50 pitches at the local crag, do 50 problems graded V4 or harder at the boulders, etc. I've been trying to figure out what my "50 Challenge" should be, and I'm drawing a blank. I've never been that attached to birthdays or holidays, and the best day would just be a mellow one: cragging with friends, dinner with the family, video games, Netflix, reading, early to bed (becaue I'm senescent). In any case, I'm one-year deep into a local project that I hope to wrap up before then, but if I don't, that's likely where I'll be on my birthday, putting in my "fiftieth burn"—well, probably "five-hundredth" or "five-thousandth" (don't ask…).
But if I have sent the route, maybe I'll do something else to mark the day, like try to tick 50 problems in a session on the Grasshopper wall + Moonboard 2019 setup in my garage. The problems should probably be "easy" or I won't meet my goal; the V3s and V4s are already nails-hard, and it gets worse from there. (There are V5s I will never do, with heinous throws to pinches and cross-body lunges to those tiny yellow crimps—these clearly weren't meant to be climbed by people who are 50.)
Or I could head to my local roped + bouldering gym, the Boulder Rock Club, and do 50 pitches on the auto-belay. At 30 or so feet per pitch, that would be 1,500 feet of climbing, though, really, to do a proper El Cap day—say, the NIAD—I should do 100 pitches. Which, well, fuck that…. It sounds like work. Or I could head to my local bouldering gym, The Spot, and do 50 problems. But they just recalibrated their grading scale, and now the grades I used to be able to do are kicking my ass. So I'd just leave feeling bad about myself on my birthday, when what I really need are soft grades to confirm that I've still got it and I'm climbing just as hard as ever!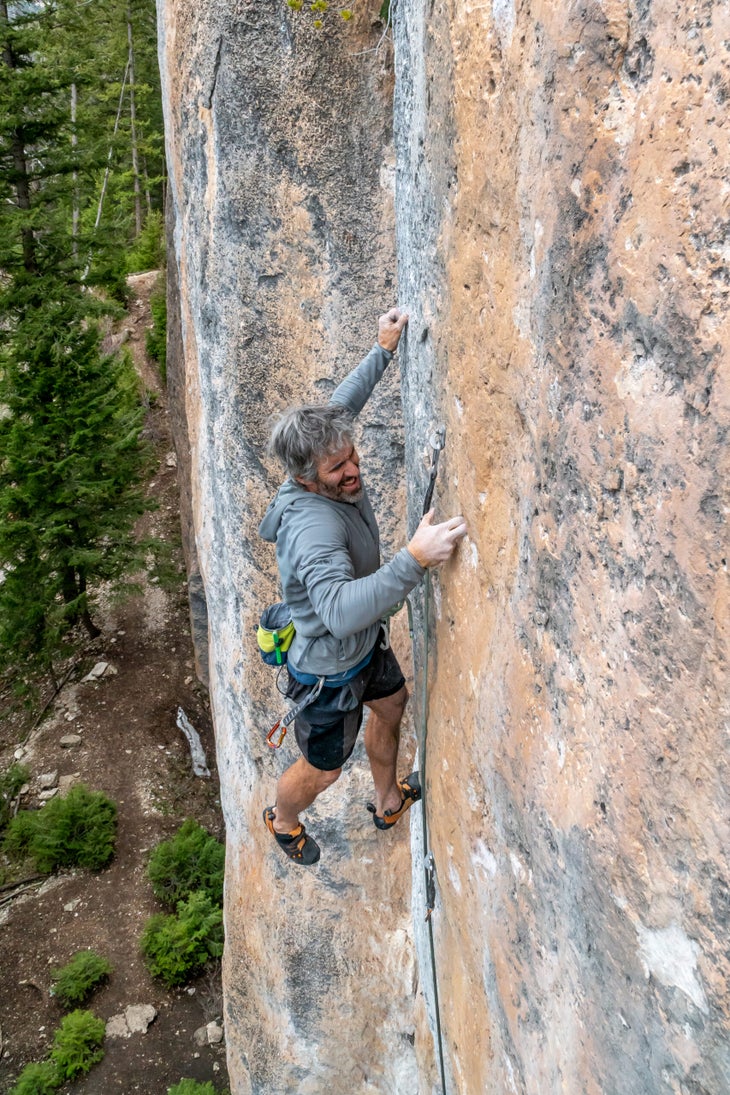 What it Means to Be a 50-Year-Old Climber
Which brings me to my main point: 50 is not 20 or 30, and it's not even 40, either. Fifty is 50, and I've put a lot of miles on this car. I never expected to live this long, and I took the sorts of risks early in my career (free soloing, headpointing, scary trad, highballing) that I almost never take now. Not necessarily because I wanted to die, but because at the time itseemed like the only way to live—to the fullest extent of that word. Somehow, I scraped by; somehow, I survived. And now I'm 50, with the aches, pains, and war wounds of someone who has been rock climbing for 35 years. (It also doesn't help that there were no crashpads for the first five years of my bouldering career.)
If I live another 35 years, I'll be 85, and perhaps still climbing then, though I realize the next 35 years of my climbing career will look a lot different than the previous 35. This is mortality at work; this is entropy. That said, I've noticed a few things about who I am as a climber now that I could never have foreseen back when I was 20. I wouldn't have been able to relate, and it probably would have seemed impossible to me that I'd someday be 50 anyway—30 seemed a long way off, much less 40. Or, ya know, 50….
1) It takes me forever to warm up.
Most of my climbing partners can do some short, shitty 5.10 or 5.11 off on the side of the crag, dork around on a portable hangboard, then start giving burns on their project, even if it has V-Hard sequences. They're, like, ready to go after a half hour—WTF? Of course, most of my climbing partners are younger than me, so this may change for them; or it should, if we live in a just universe.
I take at least three or four pitches and/or a couple of hours of cragging to hit my stride, especially if it's cooler out—about double what it took me back in the day. My big muscles don't fire and blood doesn't flow to my extremities, and as a result I have trouble getting my Grrr on—the whole "a couple burns before work" scenario doesn't really work anymore. This has made me a princess about my warmups, so if you climb with me, know that I take forever and that I might also need a backrub between burns. And don't make me take off my puffy—I get chilly…
2) Double rest days kinda suck.
I used to love double rest days. You'd hammer yourself, take two days off, rebuild, then come back hard and get shit done. Now, if I take more than one rest day, it's like my body forgets how to climb. I take even longer to warm up, I can't climb for shit, my hands don't work and my skin feels slippery, and I want to cry—more than usual.
Maybe it's just my body preparing for the inevitable: "OK, looks like we haven't done this climbing crap in a couple days, so maybe we don't have to anymore. Let's just shrivel up and die—goodnight!" So while I still take double rest days here and there, it's always with a sense of dread, knowing that the first few pitches are going to feel awful. Especially for my climbing partner, who has to listen to me complain like some irritable Muppet.
3) Recovery is still good.
I think I'm lucky here, as many aging climbers talk about how long it takes them to recover after a big day. For the most part, I bounce back as quickly now as I did 10 or even 20 years ago. But on the flip side, it takes me 97 hours to warm up (see above). Also, I spend my rest days in a nest of soft pillows on the couch while my wife fans a palm frond over me and drops grapes into my mouth, as to expend as little effort as possible.
4) I'm still learning.
Climbing is a strength sport, sure, but it's also a technical one, and I continue to learn—and to embrace learning—new movement skills. For instance, I had no idea what a Pogo Move (aka MoonKick) was until two years ago, when my friend Paul showed me on the MoonBoard. It's a dynamic move in which, to launch to a distant hold, you swing the leg on the side you're firing with in the air, creating a pendulum motion you harness at its apex to turbo-charge the launch. It works well on system walls and light-up boards and for gym bouldering, but I figured it was just one of those novelty moves without real-world application.
Then, this summer, I was struggling with a steep ou     tro crux bulge on a project, and on a whim decided to do a Pogo Move to bump my right hand from a sloper to a higher, better hold. Lo and behold, the Pogo worked, and was the beta I ultimately used on my send. Had I just dissed the move as some "gym-climbing party trick" and not bothered to learn it (the "Old dog, new tricks" things…), it would not have been in my repertoire. Climbing has helped me keep my mind open to new skills and experiences.
5) You can get stronger.
I'm not a trainer or an exercise physiologist or a pro athlete. I'm just an obsessed climber who, like so many of us, is always looking for ways to improve, ways to get stronger. When I hit a plateau in my mid-40s, I figured, "Well, that's it; it's all downhill." But then, with a training plan from my friend Nina Williams, I turned it around, and in the past two years have matched or exceeded grades I was climbing in my twenties. And it hasn't even taken that much work, to be honest: MoonBoarding once or twice a week (which is fun, anyway), some max hangs a couple months each winter (quick and easy), cleaning up my diet (a work in progress; my kids keep baking chocolate-chip cookies…), balancing out the antagonist muscles with daily pushups and core (get yoked!). And just climbing—loads and loads of climbing.
So yes, at age 50, with diligence and a plan—and using all the great training tools available to us today—you can still get stronger and improve your game.
The main thing I have noticed, however, is that it's a "Use it or lose it" proposition now—it's much easier to stay in shape with a little daily diligence and some try-hard a few times a week than it is to let it all go, couch-potato style, and then have to come back in an aging body. So even when Colorado's winter hits and I feel more like playing Xbox than heading out to the cold-ass rock or training, I push on anyway, because spring is coming and I have no idea how many good seasons I have left.
6) You're going to get injured doing random shit.
While I did get a climbing-related overuse injury earlier this year, the two most serious injuries I've had in recent memory were both from non-climbing activities. The first—dragging a boxed treadmill into the house by myself despite the picture on the box of two people lifting it—gave me a hernia I subsequently had to have surgery for. And in the second case, I threw my back out trying to correct my "diving form" per my wife's suggestion while horsing around at a rec-center pool with our kids. I've also had mornings when I slept wrong and woke up unable to turn my neck, or with my arm numb and one shoulder jammed up hard under my ear. See? All injuries completed unrelated to climbing—the lesson being, never do anything other than climb!
7) You won't get 'em all done, so start being selective.
There are climbs around my hometown of Boulder, Colorado, that I've almost done or was able to do all the moves on, but that I still haven't redpointed. Earlier, I had more of a "I need to tick everything mindset," and I probably would have forced myself to return to these routes until I got them done—even if I didn't like them, or even if I'd come so close on a previous burn that I'd essentially done them, which for me often makes it harder to muster try-hard for another effort.
But I'm finally realizing that that's OK—you don't need to tick every climb, even the ones in a grade range you usually operate in. You can just move on to something else. Or go to the gym. Or walk the dog. Or play video games. Or whatever…. There is no way that, in one lifetime, you will tick every climb on Earth, so you may just as well give up on that notion and do the routes that speak to you. At 50, this is maybe the main thing I've taken to heart: Our time here is not infinite, so we may as well use it in ways that bring joy, even—or especially—on the rock.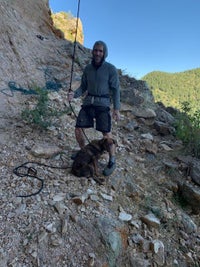 Matt Samet is the editor of Climbing. He has been climbing since the 1980s and living in the Boulder, Colorado, area since 1991. 
This article is free. Sign up with a Climbing membership, now just $2 a month, and you get unlimited access to thousands of stories and articles by world-class authors on climbing.com, plus you'll enjoy a print subscription to Climbing and receive our annual coffee-table edition of Ascent. Please join the Climbing team today.