Photo Gallery: Onsight—7 Climbing Photo Highlights (March 2019 Edition)
Heading out the door? Read this article on the new Outside+ app available now on iOS devices for members! Download the app.
Photo Gallery: 7 Standout Climbing Photos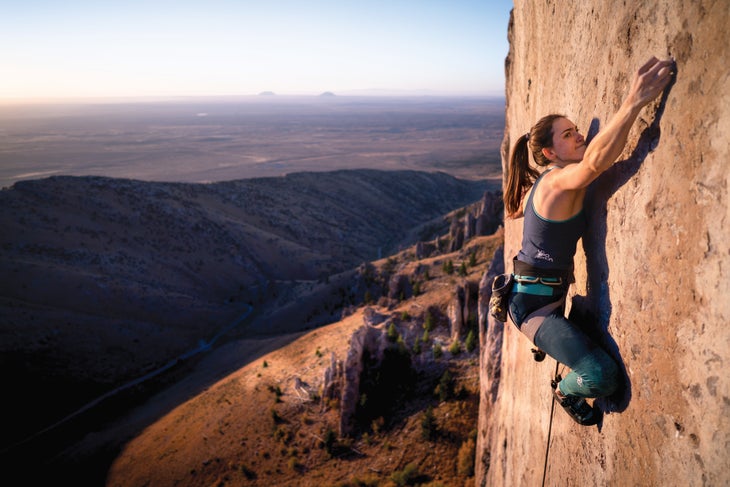 On September 2, 2018, Paige Claassen made the second ascent of Jonathan Siegrist's 2012 testpiece Algorithm (5.14d), a 40-meter pitch on the Discovery Wall at the Fins, Idaho. Algorithm begins on Son of Discovery (5.13a) and then traverses right off the anchor for three bolts, hitting a hard lockoff on a bad pocket. Higher—just two bolts shy of the top—is the redpoint crux, a tough crank off an extremely thin hold. Claassen took eight days spread over the summer to complete her ascent: two in May working the route and then a return visit in August for the send. Claassen has had a strong year, sending Necessary Evil (5.14c) at the Virgin River Gorge, Arizona, in February and Mission Impossible (5.14c) in Clear Creek Canyon, Colorado, in April. During her stay at the Fins, she dispatched a few other 5.14s, including Mind your Manors (5.14a/b), Catalyst (5.14a/b), and Vesper (5.14a). Claassen attributes her success in part to the recent cultural shift at the crags. "Over the past year, I haven't been to a single crag where women didn't outnumber men," she says, noting the increasing number of strong female climbers in the Fins and the encouraging atmosphere. "It was easy to climb hard and be motivated."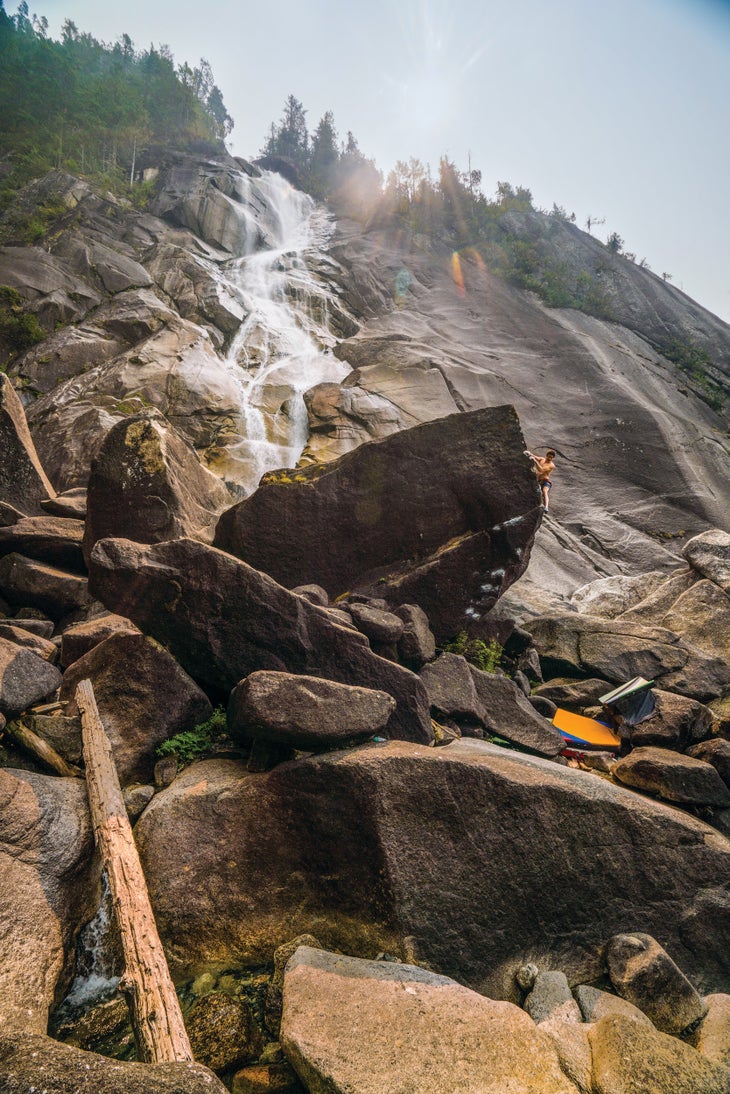 "No man ever steps in the same river twice, for it's not the same river and he's not the same man," explained the Greek philosopher Heraclitus in his philosophy of Panta Rhei. In summer 2018, Keenan Takahashi hiked to Shannon Falls, a 1,099-foot cataract near Squamish, British Columbia, and spotted a 20-foot arête just 50 feet from the base. Mist ran over the topout, and so Takahashi left the problem until the last day of his trip, when it had dried. With little cleaning needed on the water-polished arete, he climbed sustained moves to a high left heel and a big left-hand lockoff 15 feet above a slab-and-talus landing. "I'd been wavering on psyche," Takahashi explains of the committing line. "I went to Squamish and climbed and focused on what I wanted, and began to feel normal again." This change in his flow prompted him to name the problem Panta Rhei (V8).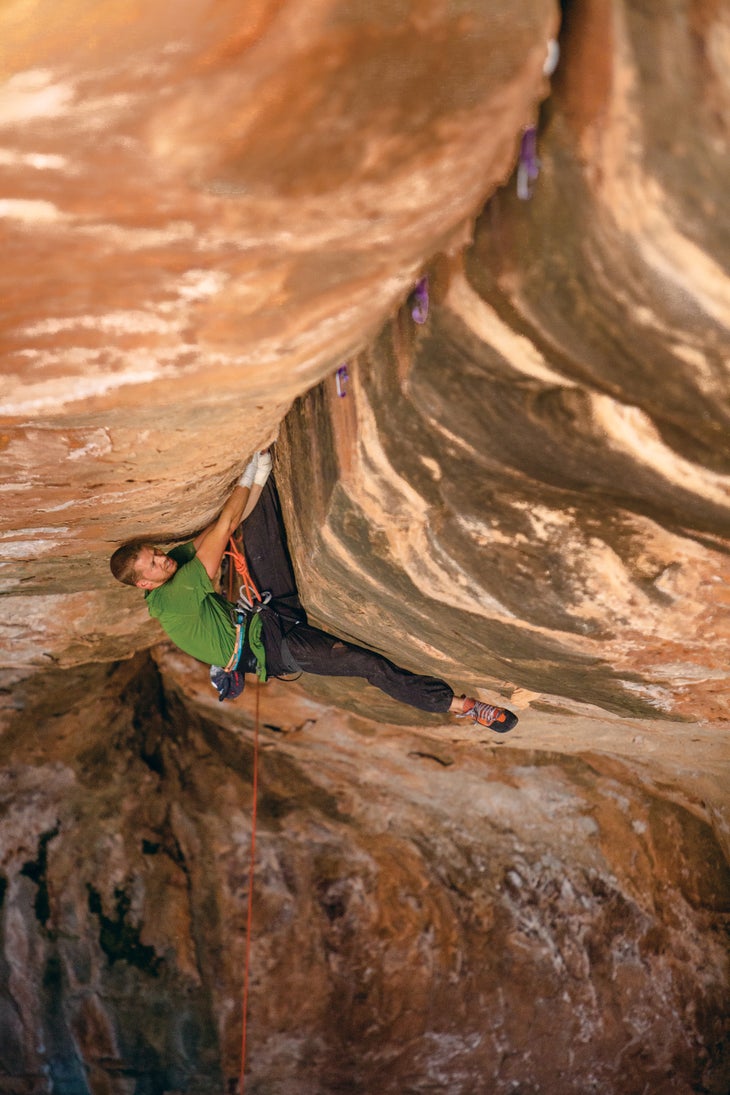 The world's hardest offwidth roof crack, Century Crack (5.14b) on the White Rim in Canyonlands, Utah, saw its third ascent by the Salt Lake City, Utah, climber Danny Parker on October 24. The 120-foot line was freed in 2011 by the UK climbers Tom Randall and Pete Whittaker (the "Wide Boyz"—see p.52). On his final redpoint, Parker climbed with 13.3 pounds of cams, placing them as he went. Century Crack runs dead horizontal for 85-plus feet, beginning with 15 feet of hands to a section of big No. 4s then segueing into flared No. 6s, the technical crux. Says Parker, "From there, it's essentially all No. 5s," with the final fissure relenting to 45 degrees overhanging. Parker's send burn took 37 minutes, 25 of which he spent hanging by his feet. "At that length of time, blood is having a hard time defying gravity and creates a ton of pressure in your head right behind your eyes, and your feet start to feel like little pressure cookers," he says. "The key is to stop and hang off a fist stack and pull each leg out of the crack to force blood back into your feet and relieve the pressure in your head."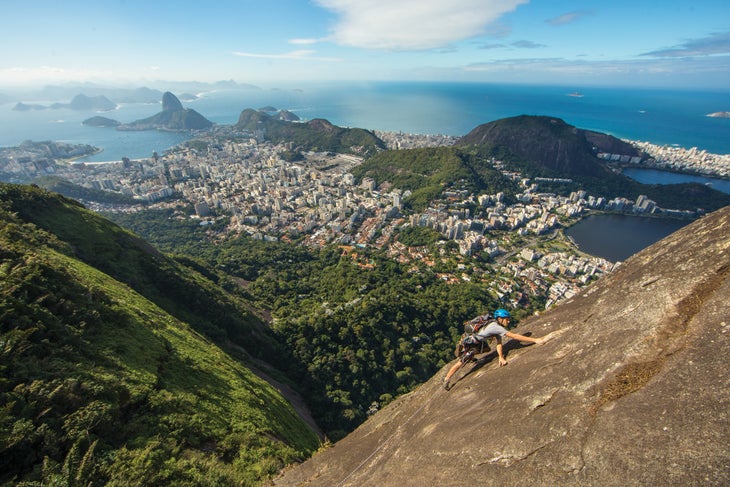 Here, Rio de Janeiro, Brazil, native and guide Mingo Leahy climbs K2, a 500-foot 5.8+ on the 1,500-foot Corcovado in Rio. The climb follows faint dihedrals connected by slabs to top out at the city's famous Christ the Redeemer statue. Leahy works with the Centro de Escalada Urbana (CEU), a program that uses climbing to elevate self-esteem, promote healthy living, and pass on life skills to at-risk youth from Rocinha, one of Brazil's largest favelas. The school, now run by Andrew Lenz, was founded in 2010 and has teamed up with over a hundred youths; today, it works with 20 young climbers from 10 to 20 years old, climbing with them inside and out and offering educational, cultural, and professional programming. Via their GoFundMe page (gofundme.com/centro-de-escalada-
urbana), the CEU seeks support for climbing-wall-space rental and maintenance, furthering mentorship, transportation and food costs for outings, and expanding the climbing program and constructing climbing walls in other favelas.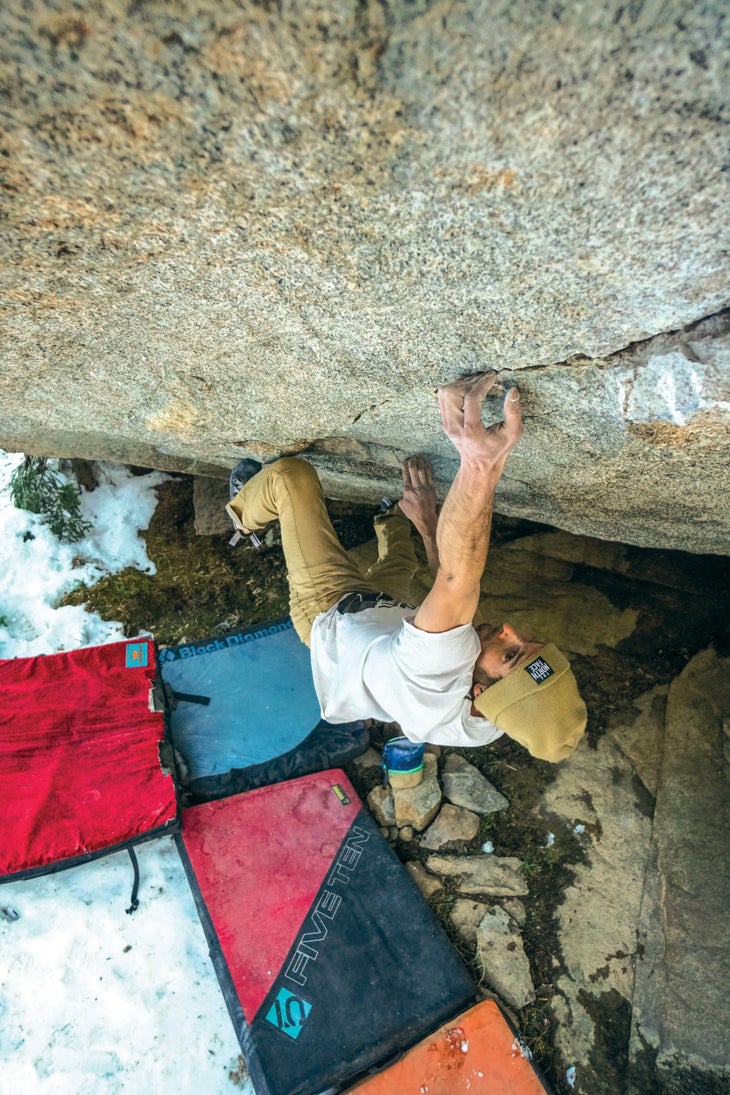 "I felt in beast mode going back out there," says Daniel Woods, a 29-year-old professional climber from Longmont, Colorado. Over two years, Woods hiked an estimated 91 total miles to unlock the 18 powerful crimp moves on Box Therapy (V16), a 20-foot problem at Box Lake (10,500 feet) in Rocky Mountain National Park, Colorado—and one of the world's eight problems given the grade. The problem begins low in a seam and follows a small pinch, a tiny slot, a campus move, and then a difficult front-lever cross move to a 10mm edge on the 50-degree-overhanging wall to join Tommy Caldwell's Spread Eagle (V11). Box Therapy marks the fourth V16 Woods has established—and his third in RMNP. He first tried the problem in September 2017, but an injured MCL kept him from hiking out there enough to finish the climb. After a successful Rocklands season this summer during which he climbed Nalle Hukkataival's Finnish Line (V15), Dave Graham's Black Eagle Assis (V15), and Paul Robinson's Pirate Code (V15), Woods returned and dispatched Box Therapy after six total days of effort. "There is just one set of holds going out this mega-roof, and, I believe, just one sequence that works. It has everything I look for in a pure bloc," says Woods.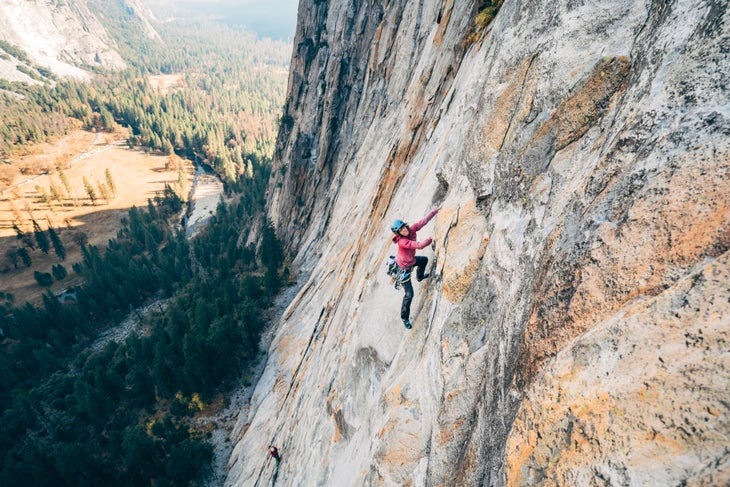 "Father Time demands many different styles, from technical slab to bouldering power to endurance laybacking to dihedral wizardry," says Nina Williams, who in November 2018 made a rare repeat of the 20-pitch 5.13b on Middle Cathedral Rock, Yosemite. "The only thing missing is offwidths, which I'm not complaining about." Williams and Katie Lambert first tried the 2014 Mikey Schaefer line in spring 2018; it follows 1,100 feet of 5.10-to-5.12 low-angle face—like that on P6 (5.12), shown here—to a bivy ledge. Above, two ropelengths lead to the 300-foot headwall, with its three 5.13b pitches: the "Boulder Problem," the "Athletic 12c," and the "Index 11d." Above, five more pitches, including two 5.12s, lead to the summit. This autumn, the pair worked the headwall, then began climbing from the ground after a few days' rest. While Williams redpointed the crux pitches quickly, Lambert suffered a blood blister on her index finger, which kept her from being able to crimp the crux holds. Williams's ascent marks approximately the eighth time the route has been freed; Lambert plans to return in spring 2019.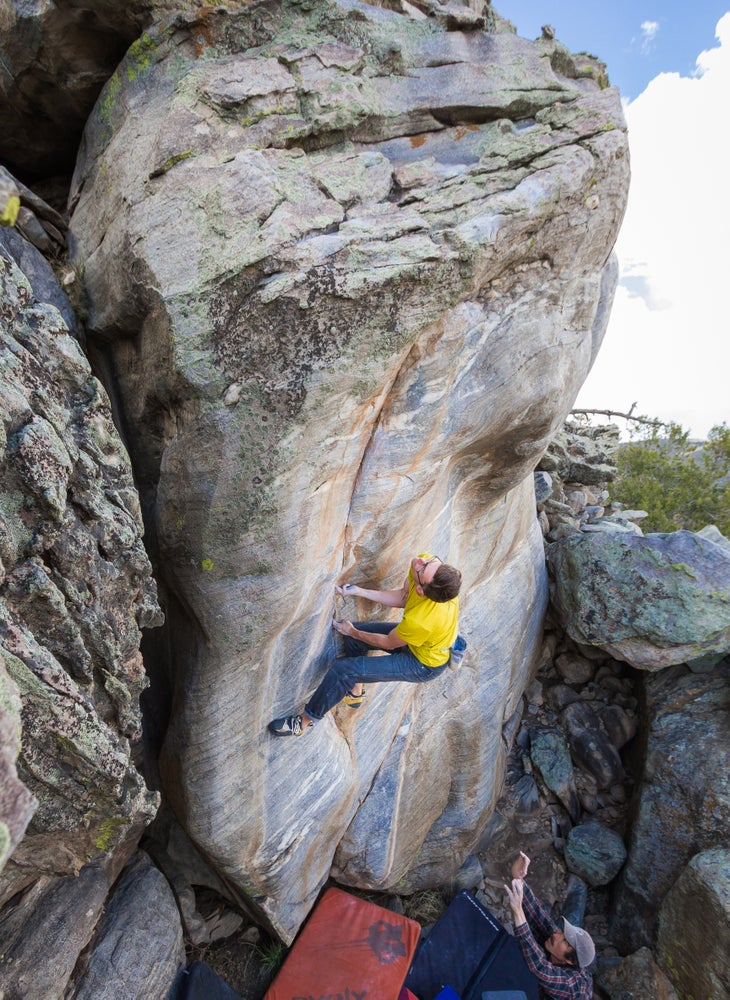 Almost. In 2014, Eric Bissell almost had the first ascent of the Ripple Wall (V9), an iconic highball on the white/blue quartzite of the Ortega Mountains in northern New Mexico. After countless sessions, Bissell finally unlocked the sequence up this offset crack at the Nosos area. At the crack's end, he deadpointed to a crystalline jug and then campused up chickenheads to finish. Just as Bissell gave a victory whoop, elated to have made the first ascent, a chickenhead he was hanging onto exploded. Bissell rocketed 20-plus feet to the crashpads. Fortunately, his spotter was the burly, 6-foot-tall emergency-room doctor Noah Kaufman, who provided a heroic spot, arresting Bissell's fall. (See Jane Jackson's article on spotting, with input from Bissell and highball partner-in-climb Keenan Takahashi.) Bissell returned to the Ripple Wall the next year with Takahashi and topped out, this time without any hair-raising plummets.
Note: Click any photo to view the full-size version.
Seven photo highlights from past issues of Climbing Magazine, including Paige Claassen, Daniel Woods, Katie Lambert, Keenan Takahashi, and more.
Related: