Desert Rustle
Navajo guide Aaron Mike explores the intricate web of history, stewardship, and climbing in Cochise Stronghold, Arizona.
Heading out the door? Read this article on the new Outside+ app available now on iOS devices for members! Download the app.
This feature is being provided free as a preview of our Summit Membership. Get access to more great climbing articles and other benefits, along with a subscription to our print edition, by joining here.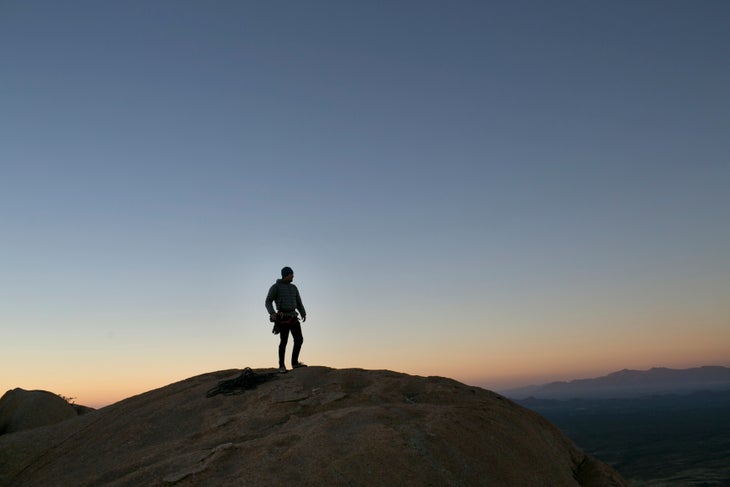 The sun's last rays light the dome as if from within. Above us tower 300 feet of deep-orange granite painted green with lichen. Below, three pitches down, the desert surrounding Cochise Stronghold stretches into a blue haze. Long shadows reach across the wall, pulling us into darkness. We four—Krista, a journalist; Len, a professor and climbing advocate; the guide Aaron Mike; and the photographer Gabriel Ellison-Scowcroft—don headlamps and keep climbing. As we gain the ledge on the fourth pitch of Sheepshead dome's five-pitch Ewephoria (5.8) where we'll bivy, the stars brighten. The long moo of a cow echoes off the rock.
Cochise Stronghold's domes tower above a seemingly inhospitable landscape in southern Arizona. The cacti, agave, and yucca are what's left after millions of years of evolution, the most resilient species of the bunch. But the only human footprints are from visitors; the original inhabitants—the ancestors of the O'odham peoples who lived here for thousands of years, and more recently the Chiricahua Apache—are now displaced across reservations. The great Chiricahua Apache leader Cochise took refuge here as both the US and Mexican armies hunted his people. In 1886, his fellow tribe members would become the last Native Americans to surrender and end the "Indian Wars"—systemic efforts by the US government to subdue and forcibly displace indigenous people in the West.
From a distance, Cochise Stronghold appears two-dimensional. The rounded domes rise from spotty forest cover as if in a painting. But up close the scene unfolds into a mind-bending display of angles, textures, and shadows. It's easy to imagine why the Chiricahua took refuge here. "A better natural fortress would be difficult to find," says a 1956 report by the US Geological Survey. The Stronghold provided water, shade, and shelter for the Chiricahua deep in its hidden valleys for more than six decades of armed conflict between Apache bands and the US Army. This period, the Apache Wars (1849–1886), proceeded the cession of territory from Mexico after the Mexican-American War. This had led to the building of US Army forts and a significant influx of American settlers who saw opportunities for livestock, agriculture, and mining once the Apaches were removed. In 1886, the US Army implemented a surge of 5,000 infantry to wear down the Apache, resulting in the surrender of Geronimo, who led the Chiricahua after Cochise's death in 1874, and around 40 of his followers after the Chiricahua finally departed the Stronghold.
Before the Apache Wars, the desert "sky islands" served as waypoints and settlements for the indigenous groups who moved seasonally throughout the region. Evidence of their presence can still be found in lithic scatters, pictographs, and grinding holes in the granite. Even if settlers or the US cavalry had been able to navigate the steep, loose valleys, they would have faced a maze of boulders and sharp plants within—not to mention arrows launched from the summits of the commanding domes. They opted to wait instead at the base of the mountain range.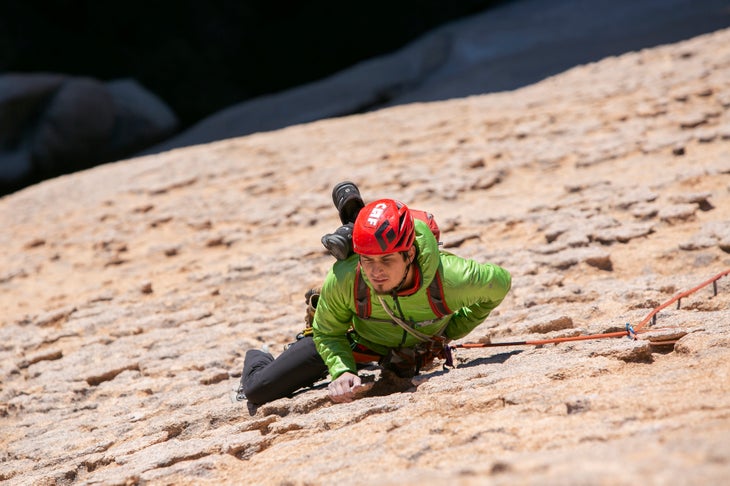 As we settle into sleeping bags atop our sizeable ledge in the West Stronghold, the silhouette of the wall above partially obscures the Milky Way. Mike, one of the few American Indian certified AMGA guides in the United States, struggles to get comfortable. We drift in and out of sleep.
* * *
Mike, who is Diné (Navajo), started rock climbing when he was 16. He adventured in the canyons near the Four Corners with his grandfather. One day he lost sight of his grandfather, then looked up and saw him wedged 60 feet up a chimney. His grandfather wore sneakers and a button-down shirt.
Mike is now 33. He stands 5'7", with brown eyes that are alternatingly fierce and tender. As owner of the Tucson-based Pangaea Mountain Guides, the Native Lands Coordinator for the Access Fund, and an athlete for the apparel company NativesOutdoors, he provides outdoor-recreation opportunities on native lands and ensures that the outdoor industry can benefit native communities.
Mike grew up in a trailer in Gallup, New Mexico, with eight family members. "I was the far-out-there one," he says—a curious kid with no plans to settle on the reservation once he was old enough to start a family. At age 14, he started helping out at his grandparents' Burger King franchise in Kayenta, Arizona. Watching them navigate the world of entrepreneurship planted a seed that would grow many years later. Mike would go on to other customer-service gigs like Starbucks where his people skills quickly boosted him up the ranks.
Mike purchased Pangaea Mountain Guides in 2014 with the assistance of two silent parties and after years of his own working and saving, including a stint at Headwall Harnesses in Tucson. His passion for climbing had begun after moving to Tucson for school nearly 18 years ago. "Climbing was a means of reconnecting to the relationship I had with the outdoors in my childhood," he says. "The outdoors and climbing were a place I felt safe, inspired, intimidated, and whole." A friend surprised Mike with a gift of a down payment on an AMGA certification class, and he was hooked. He holds a Single Pitch Instructor certification and is currently working toward his IFMGA certification.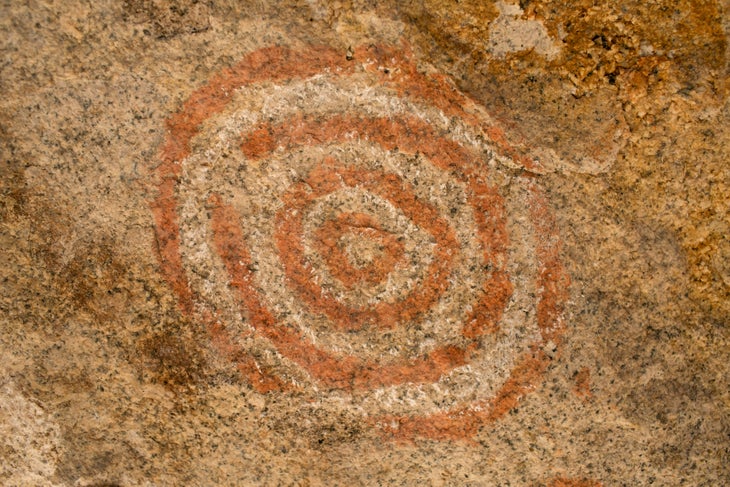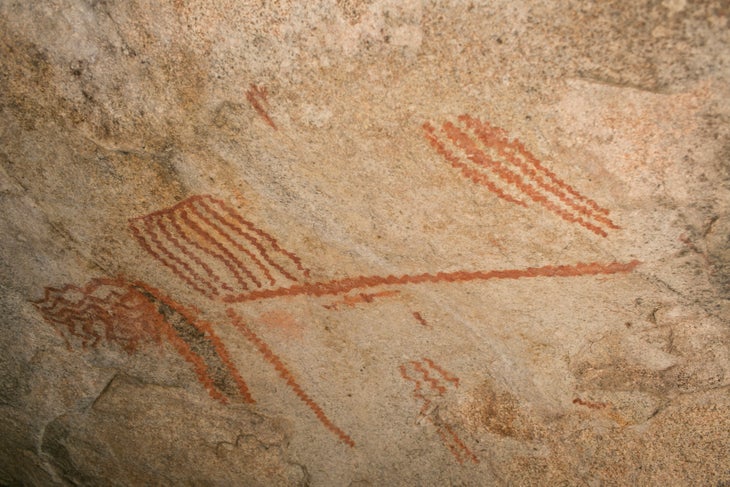 Mike manages several guides at Pangaea, covering Arizona climbing areas. He also occasionally guides at Mentmore Canyon, right outside the Navajo Nation, because climbing is illegal on the reservation. He listens closely to clients' desires and fears, hoping by the end of the day that they've pushed their comfort zone and made a new friend in the process. When we climbed in Cochise Stronghold last autumn, it was clear how Mike's dimpled smile and calm demeanor on the wall draw clients in.

* * *
The Stronghold lives in the Dragoon Mountains, one of southern Arizona's "sky islands" that punctuate the sweeping Sonoran Desert. Formed by a tectonic process called tilted block faulting, the mountains were once the container for vast inland lakes. According to the Forest Service, nearly 3 million years ago, "mastodons, mammoths, llamas, and camels grazed and browsed" the forests surrounding the lakes. A series of 22- to 28-million-year-old granite domes that formed underground now perforate the range. Some walls glow green with lichen, while chickenheads, the result of chemical weathering, dot others.
The Stronghold's unique routes attract climbers in search of solitude and adventure. The approaches can require hours of hiking up loose gullies, foreshadowing the local "minimal bolting" ethic, with its frequent runouts. "Once you master the style, you're unstoppable," says Mike. There are over 300 routes, mostly three- to seven-pitch face climbs protected by a combination of trad gear, slung chickenheads, and bolts.
The Chiricahua Apache who once lived here and Mike's people, the Navajo, are linked by a shared history and by the Athabaskan language family—a link also shared with the other Apache bands. Historians still debate the exact timing and nature of the arrival of these Athabaskan groups, but it was likely within the past 1,000 years, which is relatively recent given the region's 13,000 years of human history. Despite linguistic similarities, there are significant differences between the various bands. The Chiricahua and the Mescalero, the more southerly of the Athabaskan groups, maintained a much more mobile existence for longer in comparison to the Navajo. Intermarriage and contact with the Pueblos, who had a more agrarian society, likely influenced the Navajos and Northern Apaches. Intermarriage, trading, and cultural exchange were common between the Chiricahua and the Navajo. Chíshí Dine'e is how the Navajos refer to people who are descendants of this band.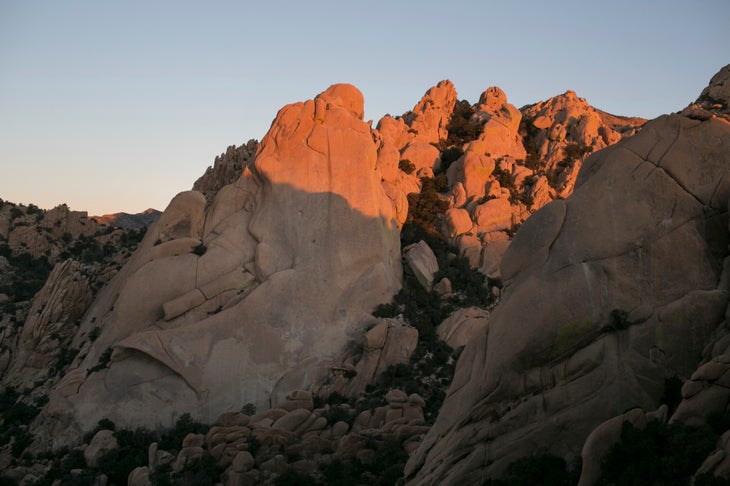 For the Chiricahua and the many other indigenous people in this region, the sky islands served as waypoints and convenient stops for seasonal migrations and movement between the desert valleys. These movements occurred irrespective of the boundaries set in the 1700s and 1800s by the colonial Mexican and United States governments, who frequently swapped "ownership" and boundaries—a fact the Chiricahua used to their advantage, avoiding capture by either side for years by moving back and forth across these arbitrary lines. However, the US Army eventually employed these prominent mountain peaks to build a system of heliostats to quickly communicate across the region in order to gain a step on the Apache—and thus began the tribes' downfall.
* * *
We wake on Ewephoria to a sunrise of shadows, haze, and orange domes. After topping out, we descend the loose approach gully back to the car. As we drive along Route 80, farmers sell pecans from clapboard stands and truck beds. We slow at a Border Patrol checkpoint where the officers seem to be off duty. Once on the highway, we see the Dragoons to the south.
It takes about an hour to drive between the West and East Strongholds, the two most prominent groupings of granite domes in the Dragoons, each with a single access road. The most common route is to loop around the north on the highway, although a minimally maintained Forest Service road traverses the interior of the range.
After we leave the highway, rows of pecan trees speed by, a manicured blur. Adobe houses and tin barns cling to a bend in the road that marks the town of Dragoon. A white horse stands by the road. We pass a sign for the Amerind Museum, home to an impressive collection of Indian artifacts, art, and historical displays.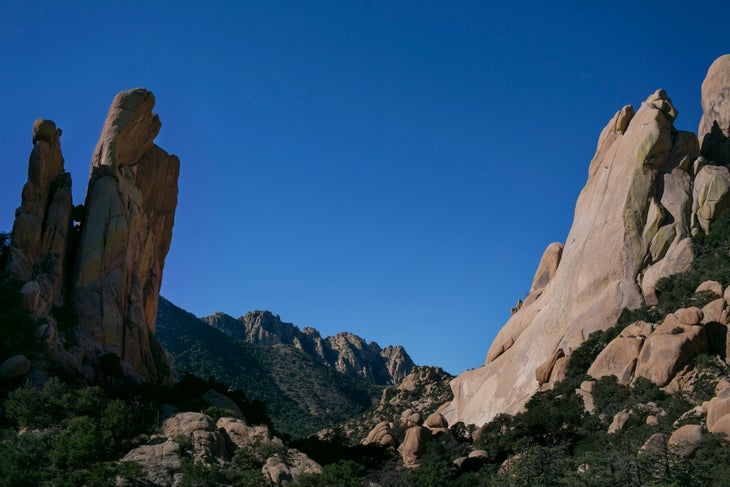 We turn onto a dirt road and rattle over the cattle guards. The sun has dropped over the ridge, leaving the domes of the East Stronghold unlit. Near a pullout sits a sign inscribed with four short sentences about Cochise, beginning, "This rugged area served as a natural fortress and hideout for Apache Indians of the Chiricahua Clan led by Cochise. He was born in these Dragoon Mountains about 1815."
* * *
Freddie Kaydahzinne, the great-great grandson of Cochise, lives with his family on the Mescalero Apache reservation in New Mexico where many of the Chiricahua were relocated after being released from prisoner-of-war status in 1912. This 68-year-old director of the Mescalero Apache Cultural Center and Museum gives lectures about Apache history at universities and schools, and maintains a well-trafficked YouTube channel featuring Apache music. In a deep, gravelly voice thick with conviction, he speaks candidly about the immense losses his people suffered at the hands of the US government. He says the healing powers of the plants and animals around Cochise Stronghold (he calls it Apache Stronghold) are sacred to the Chiricahua, who found refuge near its hidden springs. "These places saved our lives," he says.
As modern life threatens the Chiricahua culture, Kaydahzinne holds onto his family tree with pride. He describes Cochise as "strong like a mountain lion" and well over six feet tall; his father's side of the family inherited that height. "I'm proud to say [Cochise] was a well-respected leader among our people, and he was really not a gentleman who sought fame," he says. "He just wanted to be a leader who represented his people, his land." When Kaydahzinne travels to the Stronghold, he meditates and sings Apache songs. Groups of Chiricahua sometimes return to their homelands for celebrations and dances, but Kaydahzinne says it's difficult to get permission from government agencies and ranchers.
In some instances, sacred sites or other places of significance can be inaccessible due to being located on or through private land holdings. Until the passage of the American Indian Religious Freedoms Act in 1978, American Indian ceremonial and religious practices were severely inhibited by federal law and policy; access to these sacred places often came into conflict with the notion that they existed for the use and benefit of the general public.
Kaydahzinne is very clear about what he wants climbers to know about the Stronghold: "I hope you can tell the world that we are a people who are strong. That these mountains represent a strong people that lived there at one time, and that we still survive today as grandchildren."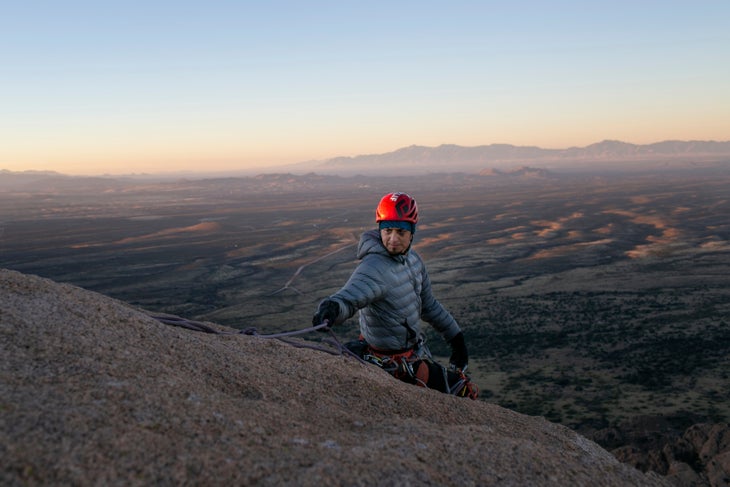 For his part, Mike is spreading the message. With clients and in his work with the Access Fund, Mike advocates for a shift away from an extractive model of recreation toward a more reciprocal one. He emphasizes the responsibility that climbers have to be in relationship with the land, not simply to "conquer" a route or Instagram it. By recreating in these places, we are also responsible for protecting them; each time we take an experience, we must give something back. This includes practicing Leave No Trace principles, encouraging folks to support their local climbing, and working to ensure mutual benefits for indigenous people and recreational user groups. "If this goes away," he says, gesturing to the walls that tower above us, "we go away."
Mike has been the Access Fund's Native Lands Coordinator since 2015, developing events that further diversity, inclusion, and respect for Mother Nature, serving as an ambassador in conversations between climbers and tribes—building these relationships as a way of moving toward "what climbing can be." In many cases, this starts with shifting tribes' perspectives to see how climbing can be a force for good—and educating climbers on how to be thoughtful stewards. "Meeting people where they are is really important," he says. In 2017, Mike accompanied members of the Access Fund and the Bears Ears Intertribal Coalition on an aerial tour of Bears Ears where he had conversations with tribal leaders about how climbers can help protect spaces with shared importance. These delicate conversations often bear fruit, but just as often require years of trust building. Mike's advocacy extends to other events like Adopt a Crag, Color the Crag, and days when he takes Native kids climbing in Mentmore, New Mexico. "Native people were the original stewards of the land," he says. "We're all trying to protect the
same thing."
Climbing has been a continual source of tension with tribes who consider their ancestral homelands sacred, extending back decades and including places like Bears Lodge (Devils Tower) in Wyoming and Daowga (Cave Rock) in Nevada. Both sites are currently federally managed lands. A series of laws passed by Congress in the 1970s and 1990s ensured that the original landholders and sovereign nations had a seat at the table in the management of public lands. In both of these examples, the local tribes used these gains to leverage federal land managers to mitigate climbing's impacts.
At Daowga, the Forest Service sided with the tribe and curtailed all climbing, including removing the bolts. This management decision led to a lawsuit, filed (and ultimately lost) by the Access Fund, which argued that the federal government violated the establishment clause of the Constitution by favoring the religious practices of the Washoe over other groups; had the suit succeeded, it could have reversed the political gains of the previous decades. Climbing on Bears Lodge ignited a similar scuffle, which eventually led to the well-known voluntary closure each June to respect the religious practices of the tribes that consider this area sacred. In learning from previous missteps, the Access Fund has taken substantial strides to educate and inform climbers to respect this closure. Their efforts, along with those by others, have led to a significant reduction of ascents of the Tower in June.
Meanwhile, recent advocacy and alignment of work between climbers and tribes on the Bears Ears National Monument have demonstrated a shift toward greater cooperation. Still, certain actions by climbers—like illegal bolting and trespassing on tribal land—stand to undo decades of work. Recently, this has included places like Canyon Diablo near Flagstaff, Arizona, where climbers have established routes on Navajo land. Not only is this illegal without approval from the tribal government, but it endangers years of work by folks like Mike to sustainably introduce climbing to the Navajo Nation.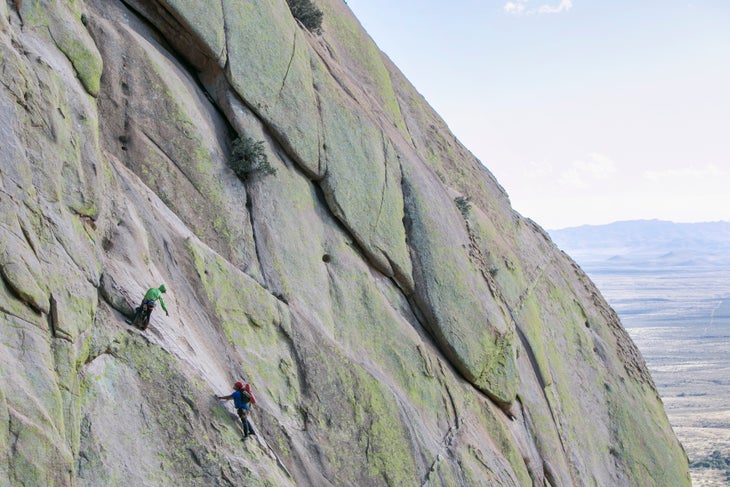 Still, thanks to advocates like Mike, younger Navajos are trending toward a more positive view of climbing. As technology and loss of language and culture distance young people from their connection to the land, with it goes a sense of identity. "There is more of a need than ever for something to provide that connection again," says Mike. "Recreation is often something that's done as a privilege. I don't think that's fair." For a number of younger Navajo climbers, the sport is a way to connect to their identity and culture imbedded in the landscapes around them. Mike remembers one student, who had been fearful of climbing for several days, finally topping out a route. She asked to stay up there for a minute, and then took a selfie.
* * *
Our packs feel heavy as we climb the loose gully to the Dome Park, a hidden valley in the East Stronghold that's home to Rockfellow Dome, Vortex Tower, and Cochise Dome. We pass a group of climbers who attended Beanfest, the annual climbing festival in Cochise Stronghold, that weekend. "You missed the debauchery!" one of them quips.
Cresting the saddle, we see running water. Mountain lion tracks press into the wet sand. Wind races through the valley as we scout a sheltered bivy. We settle on a pair of boulders, one overhanging the other. That night, the sky is even more spectacular than it was on Ewephoria. The silhouettes of granite domes stand impossibly tall and silent.
We awake before dawn and pick our way up the fourth-class approach to What's My Line (5.6 A0 R) on Cochise Dome. A kitty-litter slab wakes up our senses, followed by a couple dozen feet of chimneying in a narrow constriction—what one Mountain Project user called "A quasi-rebirthing experience." Mike begrudgingly stuffs his feet into frozen shoes and steps onto the wall for the route's first circus trick: a pendulum. He throws himself across the granite and grabs a chickenhead, cursing the frigid November wind. The sun bursts through the Dome Park in a spectacular show of light. Mike inches toward the warmth that lingers just a few dozen feet higher, and then the sun disappears behind Rockfellow Dome. We'll have to wait to thaw our fingers and toes.
* * *
Climbers began developing routes in the Stronghold in the 1960s. Scott Ayers is the most well-known first ascentionist, having put up more than 100 FAs over three decades. "His sweat, pains, and hard work in developing ground-up routes has [sic] transformed the Stronghold into a modern climber's paradise," reads Tanya Bok's guidebook, Cochise Stronghold: Rock Climbing on the East Side. The minimally bolted routes reveal an ethic of respect for this wild area and likely contribute to low climber traffic, although guidebook author Geir Hundal says the Stronghold is becoming more popular.
Nearly everyone who has climbed Cochise Stronghold's classic routes can thank Ayers for making these granite romps accessible. But with more attention being paid to what these sites mean to Native Americans, any bolting in the modern era will be subject to greater scrutiny—and many climbers hope that with it will go "conquering" attitudes. While advocates like Mike and Hundal believe most climbers have attempted to shed this colonial mindset, Bok's guidebook for the East Stronghold begins its description thusly: "We are the cavalry trying to breach these domes, and everyone feels sandbagged on their first day"—a troubling semantical misstep in a place where the US cavalry brutalized the Chiricahua Apache and pushed them from their homeland.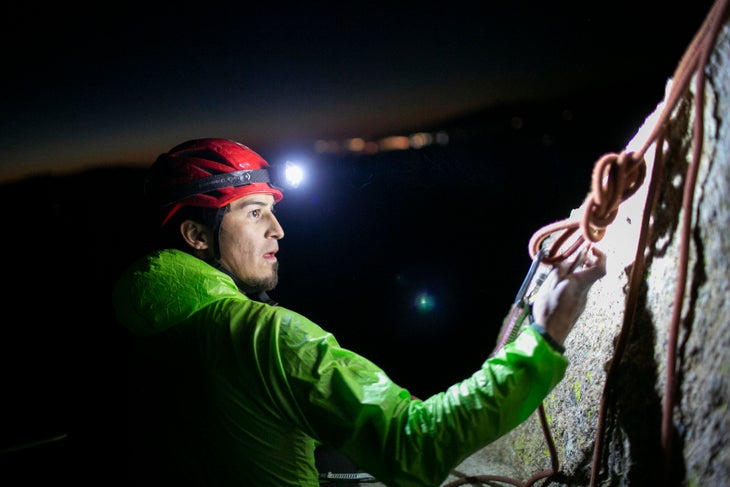 As Mike works to move the needle toward a more reciprocal view of recreation, it's hard to overstate the role that social media plays. While the outdoor industry has grown and in some cases become more inclusive thanks to social media, Mike worries that sometimes it's more about selling images and ideals than instilling the crucial values of respect and stewardship. In his roles as a guide and a NativesOutdoors athlete, Mike carefully crafts his Instagram posts around not only the physical challenges his projects pose, but also their larger social and political context. A post from February 2019 shows him climbing Rage to Live (5.13a) on Mt. Lemmon. He writes, "More often than not, I was the only Native kid on the team or that I knew of in the sport … Since Ancient Greece and Egypt … recreation has mostly been reserved for the wealthy or aristocrats. Honestly, nothing has really changed except the recognition that this is historically inaccurate … Outdoor Industry, are we doing all we can in a responsible and sustainable way or are we focusing on noise?"
* * *
Cochise Stronghold is part of Coronado National Forest. Established via presidential proclamation in 1907 by Teddy Roosevelt, the land was in the public domain at the time of the national forest's creation. After the last Chiricahua had been loaded onto trains in 1886 and shipped to Fort Pickens, Florida, to be held as prisoners of war, their homeland became de facto government-owned. The government promised the Chiricahua that they could return to southern Arizona after two years, but that day never came. The tribe remains scattered between the Mescalero Apache Reservation in New Mexico and the Fort Sill Reservation in Oklahoma.
Today, the Forest Service's mission is to "Sustain the health, diversity, and productivity of the Nation's forests and grasslands to meet the needs of present and future generations." That means managing forestland for multiple uses, including grazing, hunting, recreation, mining, motorized vehicles, and horseback riding. "There are a lot of people who care about places in this forest," says Coronado National Forest Public Affairs Officer Heidi Schewel. "This has to be sustainable for everyone."
That's where things get complicated—or perhaps simple, depending on how you look at it. In theory, the USFS collaborates with volunteer groups and tribes to protect the Stronghold and educate visitors about its historical and ecological significance. But in practice, according to members of several advocacy groups we spoke to, the forest service simply lacks the administrative capacity. Even if the funding is secured for a project, says Eric Sophiea, the former director of the Climbing Association of Southern Arizona (CASA), there aren't enough forest service staff to do their own paperwork. "The forest service has a lot of conflicting mandates it's supposed to uphold. It's hard for them to say 'yes,' and it just takes a fair bit of time. It's easier to just say 'no,'" he says, emphasizing the importance of vetting projects. Sophiea remembers one instance in which CASA was hoping to remove graffiti from Mt. Lemmon but it wasn't clear whether the forest service was on board until the night before the event. Thanks to several years of cultivating a relationship with the agency and developing trust, the project was allowed to go forward.
Federal law mandates that the USFS consult tribes in its decision-making. "People are very interested in what happens on their ancestral lands," says Schewel. According to the Southwest Region Tribal Relations division of the forest service, "Tribes are engaged with the Southwestern Region in virtually every aspect of land management from fuels reduction to preservation of sacred sites." But the most recent roundtable consultation listed on their website was in 2016.
Over 60 former mines that produced minerals and metals until the 1980s dot the Dragoon Mountains. The Abril Mine, one of the largest zinc producers in southeast Arizona, was prospected in the early 1930s, and full-scale mining began in the 1950s. Some advocates worry that new mines could be built in the Dragoons, although there are no current plans.
Spending time at the Stronghold, it's clear the place means many things to many people. CASA is embracing these convoluted perspectives and positioning itself as a thoughtful advocate for climbers. The organization sponsors stewardship, bolt replacement, and educational events. Some volunteers are introduced to the Stronghold's Native American history for the first time on these trips. "It happens on a casual basis, as we're out there talking," says CASA President
Lora Rivera.
The organization doesn't focus extensively on historical and cultural resources like artifacts, but it's reasonable to think they might in the future. Some climbs start on unmarked archaeological sites. It's a catch-22: Marking these sites would require administrative capacity that the forest service doesn't have and could potentially make them more vulnerable to abuse or theft, while leaving them unmarked makes them vulnerable to unintentional harm and misses a potential educational opportunity for visitors.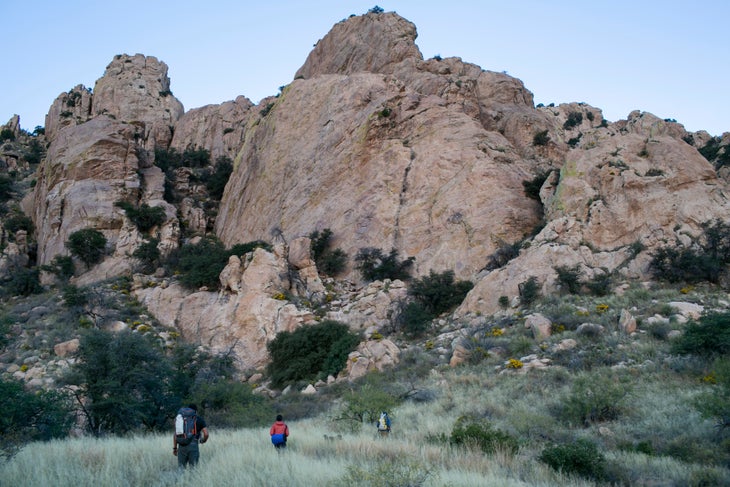 Rivera says CASA is proactively trying to support the community and progress its reputation as a positive steward of the land. "Insurance," she calls it. That way, the group will have earned its seat at the table when conversations inevitably arise with the forest service, tribes, and other stakeholders about how to manage climbing in southern Arizona.
* * *
The wind is still racing as we top out What's My Line. Dazed from the early start and a little chilled, we gaze at the surrounding domes in silence. The Dome Park sprawls 400 feet below, and we can just make out the boulder we bivvied under the night before, a cloud-shaped rock in a sea of boulders. With Rockfellow Dome now at eye level, we scan for climbers but find none. Then a voice signals a party approaching the last pitch of What's My Line. Once they reach the summit, we chat with them for a while. One of the men says he's of Iroquois descent, a First Nations tribe in Canada. As he sets up the rappel, he looks at Mike.
"Thanks for speaking up for us Native folks," he says, and disappears over the edge.
Krista Karlson (kristakarlson.com) is a journalist based in Connecticut. Her work has appeared in Anglers Journal, REI Co-Op Journal, and Backpacker, among other places.
Len Necefer, PhD, is an assistant professor at the American Indian Studies program and the Udall Center for Public Policy at the University of Arizona in Tucson. He is also the founder and CEO of NativesOutdoors.