The State of Climbing Gyms in 2018
How Climbing Gyms Became the New Community Centers
Heading out the door? Read this article on the new Outside+ app available now on iOS devices for members! Download the app.
"Thrift Shop" thrums through speakers as industrial fans oscillate on the ceiling. Velcro rips, laces are tied, and Sharma-inspired "Zzzats!" echo in what was once a warehouse. Chalk-dusted polyurethane holds reach toward the ceiling, as climbers of all ages and backgrounds complete figure-eight follow-throughs and give thumbs-ups: "On Belay!"
Above: Washington climber Brittany Goris at Vertical World's Seattle location in 2016. Like many of America's original gyms, Vertical World has evolved with the new wall, hold, and facility technology to become a modern training center, as well as a gathering spot/hub for the local community.
As easy as it is to poke fun at gyms, with their crowds and waivers, they've revolutionized how we approach the sport. "It used to be that gyms … were a place for outdoor climbers to train," says Lucas Kovalcik, co-founder of Gravity Vault Climbing Gyms. Now they're gathering spots where bankers and engineers, and 4-year-olds and 70-year-olds alike, learn to climb. "They find their place, their home, and their community," Kovalcik explains of his clientele.
North America's artificial climbing roots trace twice back to Seattle: The continent's first artificial wall, Schurman Rock, popped up in West Seattle in 1939, when Clark Schurman wanted to teach mountaineering. Then, in 1987, Rich Johnston and Dan Cauthorn invested in Vertical World, America's first indoor gym, complete with pea-gravel landings, pocket-studded plywood, and epoxied-on rocks. Some 517 gyms have since broken ground in America (including 62 that have closed), and there are now corporate chains. After acquiring Planet Granite in 2017, Earth Treks Planet Granite now operates as the US's largest gym chain, with over 257,000 square feet of climbing spread across 11 facilities. When it opened this year, their 53,000-square-foot gym in Englewood, Colorado, became America's largest gym—larger than your local supermarket.
One key facet of the modern gym is its multidimensionality—today's gyms might best be considered fitness centers with a climbing focus, where you might also take yoga or CrossFit, connect with friends, use the co-working space, or buy gear (like at the REI Co-op store at Texas's Momentum Katy). You might find a climbing partner at an event like Singles and Swingers at Planet Granite Portland or take your partner blues dancing upstairs at Climb Cleveland. For climbers from the 1980s and '90s, when gyms were dark, scruffy affairs, today's experience can feel foreign. "I don't even remember padding on the floor," Vince Schrek, an instructional designer at Portland State University, told me. Schrek started climbing in 1988 at Inside Moves in Grand Rapids, Michigan. "We had swami belts with leg loops attached by carabiners!" he recalls.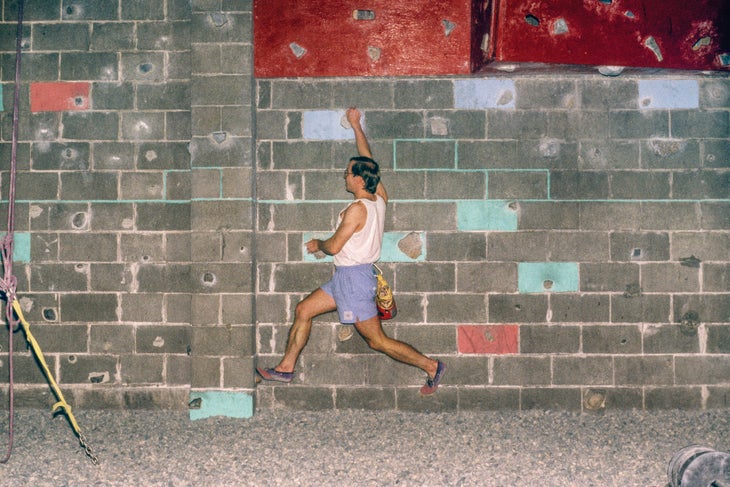 According to the Outdoor Industry Association of America's 2017 Outdoor Participation survey, nearly 8 million Americans climbed at least once that year. What may be more notable, though, is that gym growth has experienced yearly gains of at least 6 percent since 2010, according to the Climbing Business Journal (CBJ). This number has drawn major investors—like the health-and-wellness private-equity firm North Castle Partners, who penned a deal in 2016 for $48 million to open and expand Brooklyn Boulders in and beyond New York City. This infusion of cash has given gyms resources. As Robert Cohen, CEO of Earth Treks Planet Granite, puts it: "More inspiration, more resources dedicated to enhancing gear, more access, and better yet, more amazing climbing partners."
Vertical World's Johnston offers an alternative view: "Now we're at the point where I don't really understand the industry. Are indoor gyms an amusement park? A daycare center?" He could easily be referring to the 50 new (as of 2018) gyms on the CBJ Gym Map, all of which will open this year outfitted with daycares, fitness classes, birthday-party packages, speed walls, saunas, and more. "I miss the vibe of the early gym," says Rob Holzman, founder of Next Ascent Guidebooks. "[Though] I definitely want a gym with a sauna!"
This rise in gyms has cultivated clientele who prefer, or only have access to, indoor climbing. It has also introduced gyms in "climbing deserts"—places with no rock. At Momentum's new location in Houston, climbers are in America's flattest city, hours from stone. This advent has led to a bumper crop of strong young climbers who may rarely, if ever, touch rock. Take Sinichiro Nomura. The 21-year-old boulderer from Japan spent 12 years indoors before transitioning outside in December 2017, and has since ticked five V15s on rock. Beyond the skill being cultivated in gyms, however, is also the volume of climbers.
"We need to provide the opportunity for climbers to transition from gym to crag responsibly, safely, and in the spirit of mentorship," says Jeff Pedersen, CEO and co-founder of Momentum. Other gym owners feel similarly, taking proactive steps like inviting the Access Fund to events, hosting crag cleanups with local coalitions, and developing programs that promote stewardship and responsible outdoor climbing. Mailee Hung, director of outreach for Touchstone Climbing, cites a group of their employees traveling to the Buttermilks in March to educate climbers on stewardship along with BLM officer Ron Napoles. And later this year, Touchstone will collaborate with the Payahuunadü Alliance at the Buttermilks to promote responsible recreation and land preservation
Land access remains on the forefront of the climbing agenda, but it's worth expanding the conversation to include access to indoor climbing as well. Carbondale, Colorado, a place known for its concentration of climbers, many of whom moved there for nearby Rifle, lacked a public training facility. Recently, Fabrizio and Alix Zangrilli broke ground on Monkey House, a 2,500-square-foot bouldering facility. "Over 200 people showed up to our open house, and nobody knew anybody!" Fabrizio says. For years, Roaring Fork Valley locals might see each other at Rifle and other area crags, but they had no centralized place to meet, effectively stunting the growth of a cohesive community. Says Fabrizio, "I'm hoping that Monkey House will be a community center for climbers in the valley."
With the Tokyo Olympics on the horizon and the Dawn Wall making mainstream news, our community is amidst a growth spurt—and the growing pains are real. While we might be frustrated by that newbie climbing on top of us at the gym at 5:30 p.m. on a Tuesday, climbing will continue to grow for the same reasons we all came to it in the first place: to get stronger, to learn more about ourselves, and to connect to a community. As the new gathering spots, gyms are having a lasting impact, one whose effects we're only slowly beginning to understand.