Heading out the door? Read this article on the new Outside+ app available now on iOS devices for members! Download the app.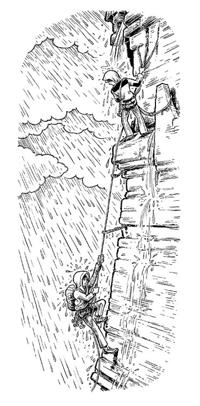 4 ways to keep your coolIt happens to the best (and even the fastest) of us. Hundreds of feet off the deck, you suddenly find yourself trapped, pinned down by an ugly beast spitting white-hot lightning and drowning the rock. Unfortunately, there are no guarantees when dealing with objective hazards like lightning but here are a few ways to decrease the potency of your epic.
1. Don't panic. Storms aren't like dogs — they can't smell your fear. Nevertheless, being methodical in your response to the situation will up your chances of survival. This includes you and your partner keeping your cool by not giving voice to worst-case scenarios. Encourage each other ("We'll get through this," not "We're gonna die!") and concentrate on your breathing. Many people hyperventilate in tense situations, exacerbating their anxiety and making it hard to think clearly. Remember the simple things, like donning extra clothes before you get wet and cold.
2. Weigh your options. Don't immediately assume that your best option is rappelling. Depending upon how high you are on the route, it may be best to climb up to safety or find a sheltered place to stay put until the weather passes. Scope out other escape options, such as ledges you can traverse to easier ground. Keep the lines of communication open between you and your partner, even if that means seconding a pitch in the rain to reach her on a higher ledge versus unproductive shouting. Any decisions are best made together.
3. Move quickly but safely. If you decide to rappel, do it quickly and decisively. Don't hem and haw over leaving your favorite cam as part of an anchor, fiddling with less-precious nuts when it's obvious the cam is safer. No piece of climbing gear is worth more than your life, or your partner's! If you decide to go up, don't muck about trying to keep your ascent all-free if the rock is wet. Place solid gear and pull on it, hang on it, or stand in it (you can jury-rig "aiders" with shoulder or prusik slings or a cordelette) to make upward progress. It's faster to free climb (when safely possible), but it's also easy to slip on wet rock and a broken bone will quickly complicate your epic. Always carry prusiks and know how to use them. With the rock soaked and not free climbable, it's much more efficient to second a pitch with prusiks than by aiding.
4. Pray. It can't hurt, can it? I'm not necessarily a religious man but I've found myself pleading with God a few times while rappelling in thunderstorms. Having a mantra, be it prayer or otherwise, will allow you to focus and keep your head. Even the lyrics from a favorite song might help. Something from the Doors comes to mind …