Why Climbers Should Lift Weights
With the right type of supportive weight-lifting routine climbers can work to avoid injury and in many cases climb harder, too.
---
Join Climbing
Create a personalized feed and bookmark your favorites.
Join Climbing
Create a personalized feed and bookmark your favorites.
Join for free
Heading out the door? Read this article on the new Outside+ app available now on iOS devices for members! Download the app.
The role of weight training in climbing has always been controversial. Many of us got into climbing precisely because we dislike the monotony of pumping iron and prefer the grace and exhilaration of climbing movement. The early pioneers of training in the 1980s such as John Gill and John Bachar in the United States or Pete Livesey and Ron Fawcett in the U.K., all agreed that weight training was not the main event, but was supplementary in a training plan, which is generally centered around climbing. I wonder if anything more needs to be said! If you do too much weight training and especially if you get your protocols wrong you run the risk of gaining unwanted muscle bulk and generally feeling clunky rather than agile and sharp. Not to mention the time and energy that you expended when you could have been climbing.
So why use weights at all? The answer is to build and maintain a stable platform of general, all-round athletic strength upon which to build specific climbing strength (from bouldering, campusing, hangboarding, etc). Climbing tends to work a specific chain of muscles to excess, while other muscles are virtually unused, and injuries often occur as a result of muscular imbalance or postural weakness and instability. With the right type of supportive weight-lifting routine we can work to avoid injury and in many cases climb harder, too.
But before we dive into the multigym, we should first consider why we would use weights instead of their new ally, suspension straps (aka: "TRX"), a modern variant of gymnastic rings that has revolutionized supportive conditioning for climbers. Like weights, suspension straps enable you to train any muscle group and the load is easy to adjust. TRX also offers a string of additional benefits that weights can't match in placing a high emphasis on balance and coordination as well as targeting the core. TRX are also highly portable and for all these reasons experienced climbers now regard "the straps" as a staple, so to repeat the question: why weights?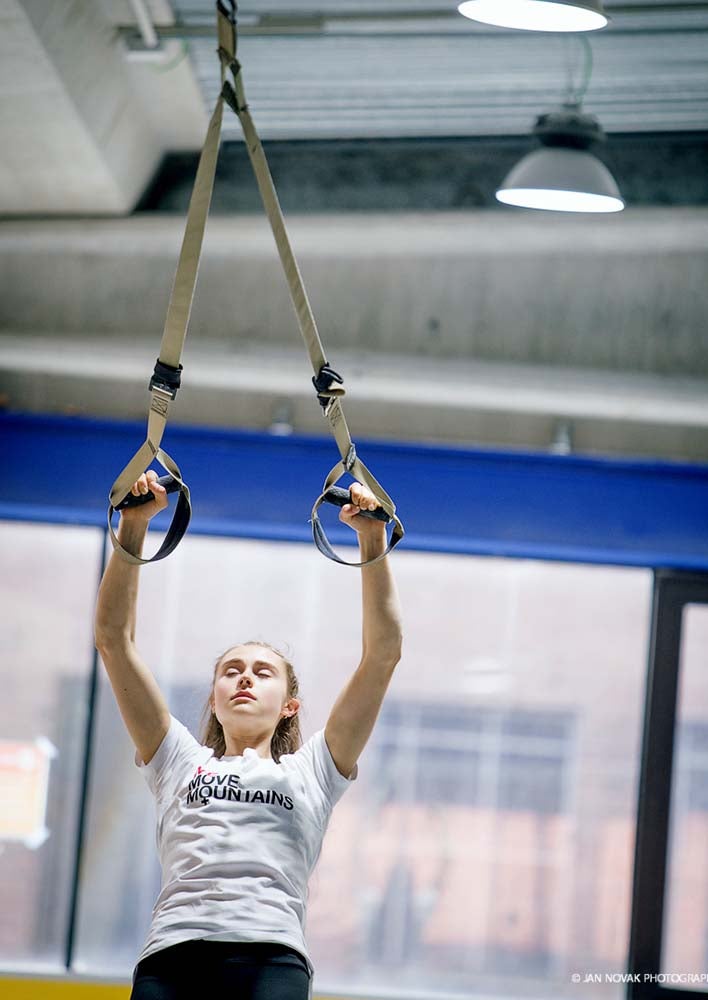 Weight training (and general strength-conditioning) should come to the fore if you have a major strength deficit or related goal. Looking first at strength deficits, this could be someone who is weak overall and/or has a light (ectomorphic) build, as many climbers tend to have. The lighter your frame, the greater, potentially, your need to use weights and as such, women often stand to gain more than most men. Conversely, those with a stocky (endormoph) build who are already carrying excess muscle may be advised never to use weights again. And, occasionally, even those among us who are generally strong and with a muscular build may develop a structural instability, limited range of motion or lack of power in a specific area, meaning that they only need to focus on this area in a weights program. It is certainly useful to get an assessment from a strength-conditioning coach or a sports physio to determine your requirements—you may well be both fascinated and surprised by the recommendations.
Regarding specific goals, a climber may find that they need to target, say, bicep strength for undercuts or tricep strength for press moves. In some cases, it suffices simply to practice these moves on a bouldering wall and do suspension exercises, pull-up bar exercises and stretch-band work in support. However, weights can help build or draw-out strength at a deeper level. Additionally, if you do targeted weight training you will less susceptible to tweaks when you try to crank out these moves.
Finally, the type of climbing you do may have some influence on how frequently you should use weights. Boulderers (especially those who do competitions) stand to benefit from regular sessions, whereas sport and trad climbers may only need to weights lift at certain points in the year, for example at the start of a training program, to prepare the body for the climbing-specific strength work that follows.
Weight-Lifting Exercise Guidelines
Give programs a chance to work. A typical weight-lifting campaign will involve 2 to 3 sessions a week during a dedicated conditioning phase, which may last 3 to 6 weeks. You can then start to reduce the frequency of training to once a week for a similar period, then cease for a while and then step it back up again, and so the cycle repeats. A suitable time to train is on rest days between climbing sessions, possibly at the gym during your lunch break or at home in the evenings. If you have plenty of time at the climbing gym then there's no reason why you shouldn't finish with weights but you should avoid doing weights before climbing,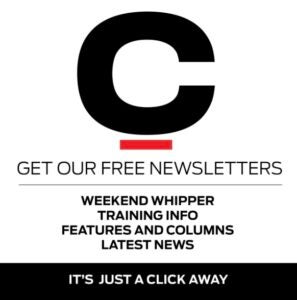 Routines may take 30 to 90 minutes. A general approach is to do 5 to 8 exercises in a session, covering all the main muscle groups, perhaps focusing on areas of weakness by doing an extra set or two to hit those. It is vital to use strict form, including a full range of motion, and to be mentally connected to the training at all times. Don't just switch off your brain and pump iron—the goal is to sharpen up neural pathways and, with certain exercises, promote flexibility, agility, and speed as well as strength.
Start a weight-training campaign by doing 3 sets of 10 to 15 reps for, 2 -to 3 weeks to build base strength. For those with a heavier build, it's worth minimizing the time spent doing 8 to 12-rep sets, as this is a classic body-building formula, which is prone to causing muscle bulk.
You can then drop the reps to 3 to 6 for pure strength. Do 3 to 5 sets per exercise, with all sets except the warm-up sets, to failure. Pyramid protocols are also effective, where you do sets of 6 reps, then 4 reps, then 2 reps, then 4 reps, then 6 reps, all to failure.
You can also perform exercises at lower load levels for high-rep sets for endurance, or with fast reps to build power.
Key exercises
The following exercises are popular and widely proven, but there are many alternatives. Cherry-pick the ones that work for you and freshen up your routine periodically. There's no space for detailed exercise descriptions here. How-to videos abound on YouTube and for further info, grab one of a huge number of up-to-date books on weight training.
 Full body
The following "compound" (multi-chain) exercises are great for the legs, lower back and arms. They develop all-over, connected strength and power and are particularly recommended to those with a weak build and/or who struggle with dynamic movement.
Straight or bent leg dead-lift
Clean and jerk
Bent-over rows
 Lower limb
The role of leg training in climbing is widely debated. Some climbers may find it beneficial to shed excess muscle from their legs and butt, which they developed in other sports such as cycling, rugby and so on, whereas other climbers may be weak in the legs and need to gain strength for rock-overs, step-ups and jump moves.
Strengthening your legs also staves off the dreaded calf cramps and leg shakes when you slab climb. For boulder slabs, add plenty of weight and keep the reps low to train strength. For long sport, trad or multi-pitch slabs, then do endurance sets of 30-plus reps and hold each rep for at least 10 seconds to receive the maximum burn.
Bouldering places high demands on the hamstrings when performing compression heel-hooks. Many climbers lack the strength or, worse, find that heel-hooks have aggravated or injured their hamstrings (many are prone to attacking these moves before warming-up their hamstrings first). The best strengthening exercise is the lying hamstring curl, performed on a standard leg-curl machine. You may need to start with light weights and build up gradually. You can try holding static contractions to build isometric strength for heel-hooking at different leg-angles. Supportive dynamic and static stretching is equally important.
Upper limb
Bench press (barbell or dumbbell) and dumbbell pec-flys


(Photo: Jan Novak)
To build strength in the chest and front-shoulders for wide-armed compression moves.
Military press, barbbell or alternating dumbbell
To build the shoulder and tricep strength for gaston-press moves and top-outs
Dumbbell front and side-raises
To isolate the front deltoid and lateral deltoid. Supportive stretch-band is also important for developing stability in the rotator cuff.
Overhead dumbbell tricep extensions or cable tricep press
To isolate the tricep component for press moves.
Bicep curls—barbbell or alternating dumbbell
To build strength for undercut moves.
In conclusion, weight training may be low on the priority list, but you'll thank yourself for making the effort to tackle it periodically. Not much in climbing is given to you, and this type of training could tip the scales and turn a weakness into a strength or a dream into reality.
Neil Gresham (UK) has made first ascents at 8c+/ 5.14c, while his new Lake District trad route, Lexicon, is E11/ 5.14 X. He has been a training author since the mid-1990s, and was one of the early pioneers in performance coaching for climbing.
Also Read: