VIDEO: See Connor Herson, 17, Style Empath, 5.15a: Jamming Cruxes in Combo Trad-Sport Techniques
Herson, with a background in the Valley as well as sport and comp climbing, is "really psyched to try more hard sport climbs!"
Heading out the door? Read this article on the new Outside+ app available now on iOS devices for members! Download the app.
This article is free, but sign up with an Outside+ membership and you get unlimited access to thousands of stories and articles on climbing.com and rockandice.com, plus a print subscription to Climbing, which includes our annual coffee-table edition of Ascent. Outside+ members also receive a subscription to Outside magazine, an ad-free online experience, a Gaia GPS Premium membership, and more. Please join today. 
Carlo Traversi was author and creator, the one to bolt and work the line, not knowing—as is the way of FAs—whether it would go, last year at Tahoe. Amid a flurry of activity by a core corps in Tahoe, he completed Empath and gave it 5.15a. A multi-genre standout, Traversi has FA'd 8C+ boulders and made the first repeat of Beth Rodden's famous trad line Meltdown (5.14c).

Next came three ascents by all-stars … the quiet, legendary James Webb, best known as a prolific bouldering first ascentionist; Daniel Woods, who has won nine bouldering nationals and a World Cup; and Nathaniel Coleman, who is only about to go to the Olympics ….
Leading the next surge, in 2021, was Keenan Takahashi, also known as a top-notch boulderer and traveling first ascentionist.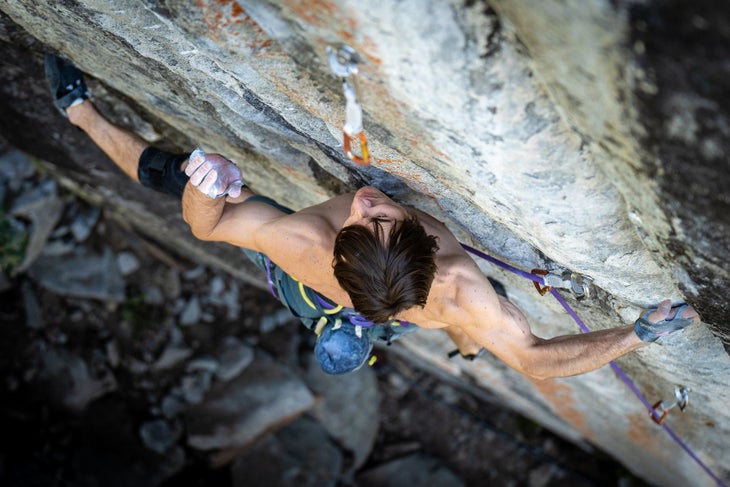 Sixth ascent came from the lifetime hard climber Ethan Pringle, June 5, with praise for the route, a beautiful streaked line flanked with russet streaks of lichen. Pringle posted, "A 100% natural route of this difficulty and quality is extremely hard to find." He thanked Webb for finding the crag, Traversi for the route, and Takahashi "for leading the psych-charge this season."
Pringle's and Takahashi's ascents were extra exciting since each fell smack into a tree. Pringle sustained a "minor" MCL sprain and had to take three weeks off working the route.
Pringle also strongly praised Connor Herson, age 17, who sent the route the day after he did. "It was amazing to watch young master @connor.herson put it together really quickly, with all sorts of weird trad beta (sans jammies, cuz they're aid!) and tenuous body-English, that only Connor can do."
Knowing he'd be asked, Pringle gave his opinion on the grade: "I could see it feeling like 15a with the beta the first four ascentionists used, especially in sub-optimal conditions. But, with my height, my highly-refined crux beta, decent crack skills and jammies, it feels on par with other higher-end 14+ routes I've done or tried this year, like Kryptonite or Made in Time. Obviously difficulty is so subjective, and can range wildly …. I'm grateful for the lessons I (re-)learned on this thing, and the times I had out at the wall!"
Connor Herson sent the route on his fifth session, looking in solid control, on June 6.
"Good, Connor," someone calls in the video. "Floating!"
Recall that at age 15 free Connor climbed the Nose of El Cap (VI, 5.14a; sixth free ascent and by far the youngest), and he synthesizes elements of both trad and sport in his climbing. In May Connor climbed his 50th 5.14. It will be fun to see what he does this season—and onward.
8a.nu calls him "The best multi-discipline teenager in the world."
The common thread in discussions is that everyone is loving Empath.
The 8a.nu report writes: "Everyone is calling it one of the best."
Connor, who posted thanks to Traversi for a "brilliant route," tells us: "Empath is one of a kind—although it's a short route, the granite tufas and runnels are unlike anything I've seen before. I wanted to find a longterm project above my limit close to my house, and Empath was the obvious choice, so I started trying it. I quickly realized that I could jam my way past almost all of the cruxes, and the route came together surprisingly quickly, such that on my second weekend I ended up sending. The send go felt really solid, and I didn't feel maxed out at all. I'm really psyched to try more hard sport climbs!"
This fall will bring the college-application process, which Connor acknowledges will affect his climbing time. "That's all right with me," he says. "Education is much more important than some sport, no matter how passionate we are about the sport."
Connor—like another young athlete much in the news, Brooke Raboutou, who is off to the Olympics, or Cameron Hörst, who recently completed his hardest route—grew up in a climbing family, in his case in the Bay Area and proximal to Yosemite. A mere 90 hours before Connor's birth, his father, Jim Herson, completed a free climb of the Salathé.