Film About Piolet d'Or-Winning Link Sar Ascent Will Leave You Inspired
Photo: Courtesy Graham Zimmerman
Heading out the door? Read this article on the new Outside+ app available now on iOS devices for members! Download the app.
The 17-minute film Link Sar: The Last Great Unclimbed Mountain, directed by Graham Zimmerman and produced by Bedrock Film Works, was released today for free. It recounts the 2019 Piolet d'Or-winning ascent of Link Sar (7,041 m) in the Pakistani Karakoram.
Link Sar follows Zimmerman, an elite American alpinist, while he attempts to climb (and survive) one of the world's most challenging unclimbed peaks, alongside his climbing partners Steve Swenson, Chris Wright, and Mark Richey.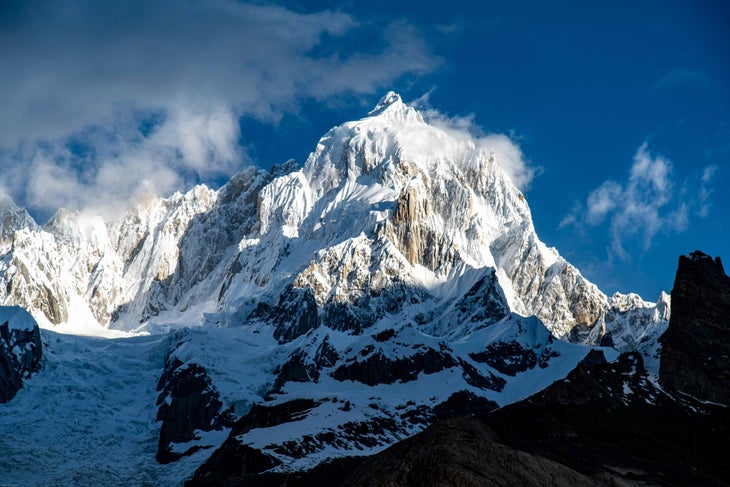 Zimmerman's commitment to filmmaking is impressive throughout Link Sar. There is no film crew tagging along on his ascent, and yet it is thoroughly documented and captures critical moments throughout the expedition. This isn't your typical point-and-shoot climbing "film". It's the real deal.
Climbing caught up with Zimmerman via email to learn more about his process as a videographer, and how he balances filming with climbing while undertaking cutting-edge ascents.
[Walsh]: You have a reputation for making first-person films in the Greater Ranges, where does that motivation to document stem?
[Zimmerman]: The practice of climbing in the Greater Ranges is one of the most powerful parts of my life. The ascents themselves are, of course, potent experiences, and they also have a deep reach into the rest of my life, teaching me lessons about how to be a better partner, storyteller, and community member. Documenting these stories allows me to share the experiences and lessons with the community around me, which, for me, adds heaps of value to the expeditions themselves.
What type of film equipment are you packing on your climbs? How do you justify the added weight?
I bring a few different cameras on these expeditions. In basecamp, I have a full-sized camera with a complete lens kit. In the case of this trip, I carried cameras from the Sony A7 series. But on the route, this is far too much camera. While climbing I bring a Sony Rx100 for most of my shooting and a GoPro for wider angles and as a backup. This is a system that I keep on an elastic cord around my neck and have at the ready for fast deployment and shooting.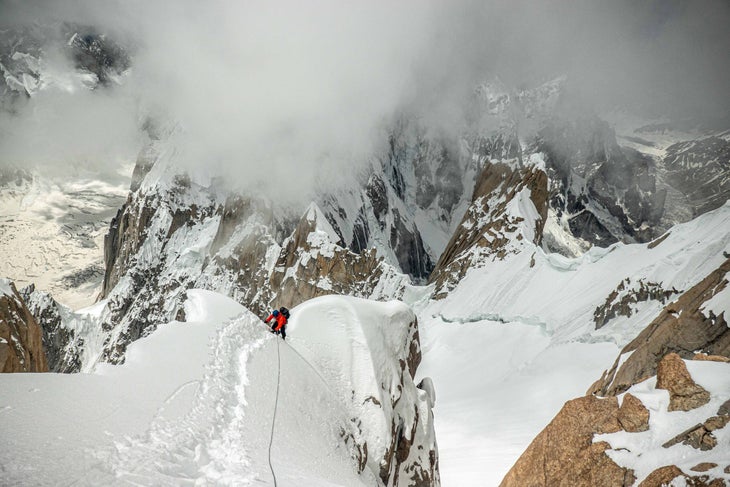 How much of Link Sar did you personally film? Were your partners as interested in documenting the ascent?
I shot the vast majority of the expedition footage in the film. My partners are excellent storytellers and are certainly invested in documenting their experiences in the mountains, but as the one who runs a camera professionally, most of that job falls on my lap.
How does filming your climbs affect your first-person experience?
There are always jobs to take care of on these climbs: leading pitches, stacking ropes, melting water, etc. Shooting is just another job to take care of. With the right systems it can be done very efficiently; I have put a lot of work into capturing images and video as efficient as possible, which means that when there is a shot, I can capture it without reducing the speed or efficiency of myself or the team. In other words, it is simply part of the process. 

The scene following your 100-foot fall was reminiscent of Cory Richards' Gasherbrum II selfie. Why was it important for you to document that moment?
That was an experience I was likely to bury and forget. Without that bit of capturing, the edges would dull and it would lose its potency. That's not what I want. Remembering moments like that will empower my future decision-making.
This article is free. Sign up with a Climbing membership, now just $2 a month for a limited time, and you get unlimited access to thousands of stories and articles by world-class authors on climbing.com plus a print subscription to Climbing and our annual coffee-table edition of Ascent.  Please join the Climbing team today.