Video: Watch Back-to-Back Sends of "The Path", Runout 5.14a Trad
Photo: Courtesy Dexter Bateman
Heading out the door? Read this article on the new Outside+ app available now on iOS devices for members! Download the app.

The Path (5.14a R) is an elegant and bold pitch of climbing. Located in Lake Louise, Alberta, with its backdrop of impossibly-blue water, the solid quartzite route is in an idyllic place to project. Simon Yamamoto, a videographer and top notch climber, has released a fantastic 11-minute video of his and Dexter Bateman's process of freeing the 130-foot pitch.
Bateman and Yamamoto are accomplished sport climbers but are only now breaking into the world of hard trad. In fact, they've entirely skipped climbing 5.13 on gear, going straight to runout 5.14 with a 70-foot fall potential.
The Path can be divided into three sections: a warm up on the crag-classic Wicked Gravity (5.11a); a 5.13c that pulls through several roofs; and the crux, a V9/10 boulder, that demands precision and power after 115 feet of steep climbing. As you'll see in the video, the crux moves aren't terribly runout, but the sideways No. 0.1 cam and fixed nut appear smaller and smaller as you climb into the no fall zone.
"If you were to fall after the crux it would be pretty dangerous I think," Bateman wrote to Climbing. "There are no placements after the crux sequence and a fall from there would definitely take you for a ride."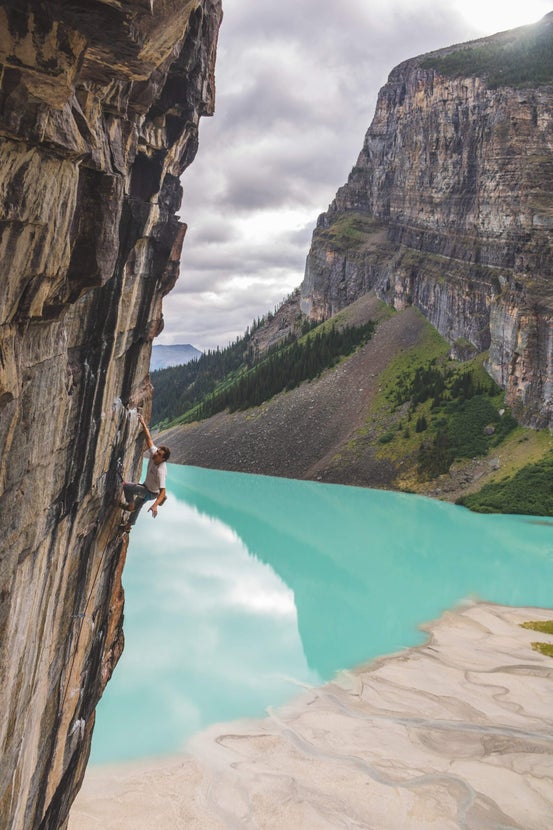 The Path was first freed in 2007 by Sonnie Trotter, who chopped its 12 bolts before sending the pitch on natural protection. Trotter later wrote for Climbing "…removing the bolts on The Path was not reactive but proactive, a way to demonstrate that the easiest way to do something isn't necessarily the best. The extra effort required to climb the face makes success that much sweeter."
This article is free. Sign up with a Climbing membership, now just $2 a month for a limited time, and you get unlimited access to thousands of stories and articles by world-class authors on climbing.com plus a print subscription to Climbing and our annual coffee-table edition of Ascent.  Please join the Climbing team today.