Researchers Prove 80-Percent Ethanol Liquid Chalk Kills Coronavirus on Surfaces
A team at the University of Colorado Anschutz Medical Campus tested 80-percent ethanol liquid chalk on SARS-CoV-2 and found that it cleared 100-percent of the virus within five minutes
Heading out the door? Read this article on the new Outside+ app available now on iOS devices for members! Download the app.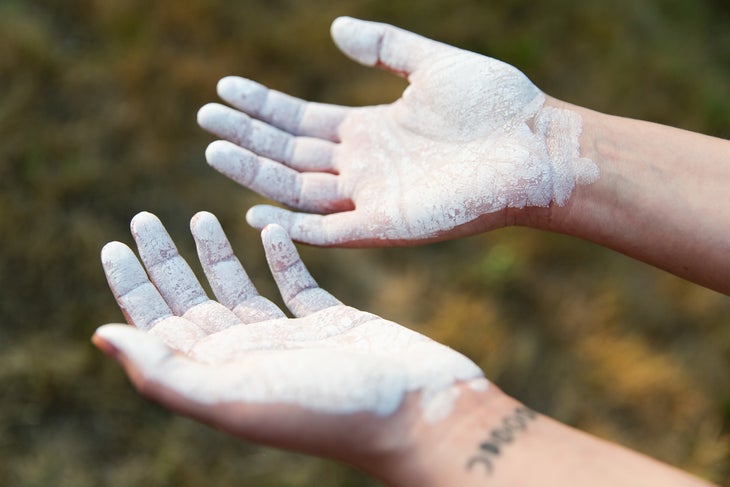 Since the pandemic began, climbers have wondered if liquid chalk could kill SARS-CoV-2, the virus that causes COVID-19. Most liquid chalks are a mixture of magnesium carbonate and alcohol, and at high concentrations, alcohol kills germs. Now a team of researchers have tested the theory.
Ross Kedl is a climber and a professor of immunology at the University of Colorado Anschutz Medical Campus. His usual field of research is vaccine biology, focusing on vaccines for therapeutic purposes. "But since the COVID era, most of us have been pulled into a variety of SARS-CoV-2 related projects," he says.
Kedl moved to Colorado 16 years ago. He's been climbing consistently for the past 10, pursuing sport routes and boulder problems in the Front Rage. It later became a family pursuit. Kedl says, "I sort of dragged my sons into it."
At some point his passion for the sport led him to subscribe to Friction Labs' email list. After the pandemic hit he received an announcement about a new 80-percent ethanol liquid chalk from the brand, their Secret Stuff Hygienic. He put in an order right away.
[Other brands sell liquid chalk with greater than 70-percent ethanol, such as Black Diamond and Mammut, but Friction Labs is the first to promote their product's sanitizing properties.]
A few days later a colleague, Joseph Sun at Memorial Sloan Kettering in New York City, reached out to him about the chalk after learning about it from a student. The student had contacted Friction Labs to ask if they had data about the efficacy of the product against SARS-CoV-2. They did not and weren't sure how to go about getting it. Sun told Kedl that there was a chalk company in Colorado that needed some help, if he was interested.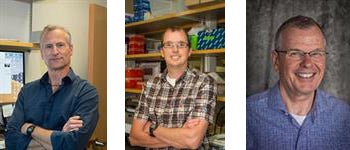 Kedl knew exactly who Sun was talking about. He was excited to take on the experiment, along with Thomas "Tem" Morrison, a virologist, and Michael Schurr, an associate professor of immunology and microbiology.
The team started by testing the 80-percent ethanol chalk's antibacterial properties. First they wiped sterile swabs on unchalked hands and then wiped the swabs on blood agar plates, which contain a growth medium for culturing microorganisms. Then the team repeated the process after applying Friction Labs' liquid chalk.
"Before you put the chalk on you'd get a decent number of colonies that would grow on the plate after overnight incubation at 37 degrees—everybody's got bacteria on their hand, it's pretty standard," says Kedl. "And then if you put the chalk on and re-swabbed it nothing grew off of it at all."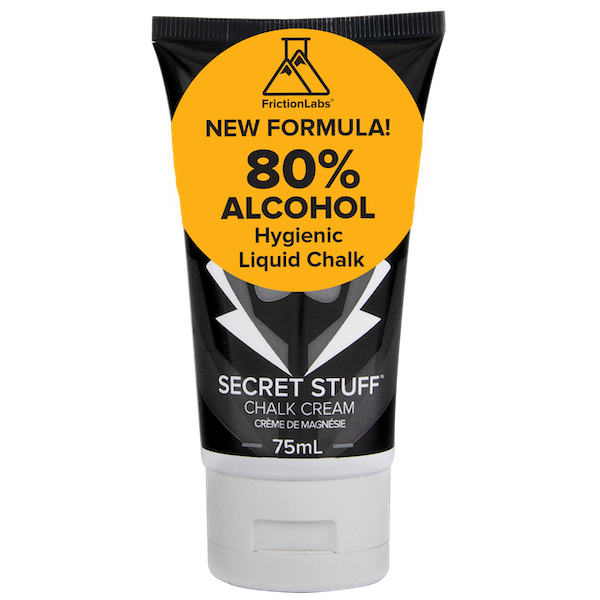 The team used standard hand sanitizer as a positive control. Each test subject would receive hand sanitizer on one hand and liquid chalk on the other. They concluded that the chalk was extremely antibacterial.
Next they tested the chalk against SARS-CoV-2. They had access to the virus thanks to Morrison, who studies emerging viral pathogens. He had focused on coronaviruses during his graduate work. As soon as the pandemic hit, he'd started growing SARS-CoV-2 in the facility's biosafety level 3 suite.
For the test, the team first applied the virus to a plastic film and then let it dry. Then they swabbed the film and put a sample into a culture system that would allow them to see how many virus particles were present, something called a focus forming assay. Next they applied the 80-percent ethanol liquid chalk to the surface and tested the results both immediately and after five minutes. Within seconds of applying the chalk, 99-percent of the virus was gone. After five minutes, 100-percent of the virus was gone. They also performed the test using a sterilizing agent as a positive control.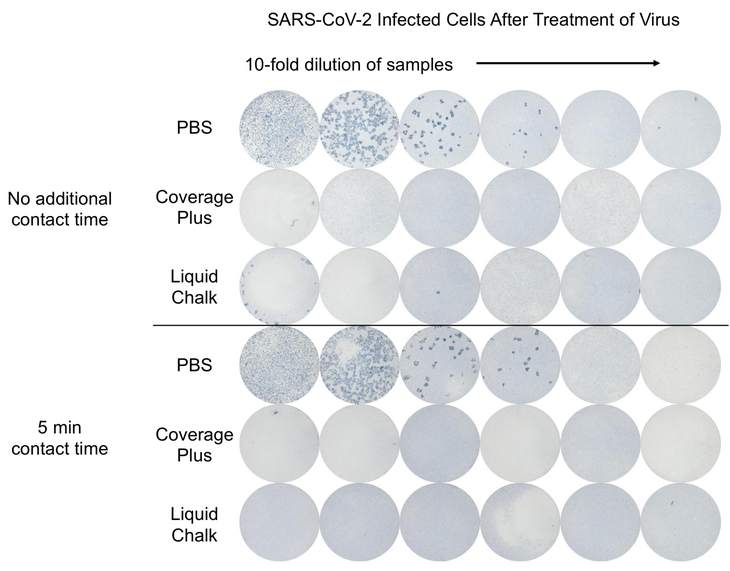 "We tried to conceptualize some way of doing this that was more climbing relevant," says Kedl. "But the only really climbing-relevant way would be to spray [the virus] on somebody's hands and then see the chalk can kill it there. There are all sorts of ethical boundaries that we weren't even going to try and engage with at that point."
The test proved the efficacy of 80-percent ethanol liquid chalk in killing the virus, but liquid chalks are sold with varying alcohol concentrations. Friction Labs' original formula Secret Stuff is only 45-percent isopropyl alcohol, for example. When asked if climbers could use chalks with less-concentrated alcohol to protect themselves from the SARS-CoV-2, Kedl was clear.
"Good God no," he said. "For one, if you don't have more than 65-percent isopropyl alcohol or ethanol, you're not going to be sterilizing. That's generally agreed upon."
Alcohol percentage alone isn't enough to predict sterilizing capability. The additional compounds in liquid chalk could have caused chemical interactions that interfered with the alcohol's effects or even protected the virus. The only way to know for sure was to perform the experiment.
It's important to note that 80-percent ethanol liquid chalk doesn't provide lasting protection against the virus. Instead, think of it like hand sanitizer. If you applied liquid chalk to your hands at the base of a route, allowed it to dry, and then climbed the route, you'd need to apply it again after lowering to kill anything you'd picked up from the holds you touched.
"If you have a gym full of people who are wearing masks and all of them are using this chalk, your chances of getting a wall contaminated with coronavirus are pretty small," says Kedl.
Liquid chalk does not replace mask use. The CDC website stresses that the virus primarily spreads via respiratory droplets that land in the mouths or noses of people or are inhaled. Regarding surface transmission, the CDC says that it may be likely, but is not thought to be the main way the virus spreads. Still, based on the CU team's results, liquid chalk can provide additional protection to a mask and peace of mind.
"If you have been a person who was really, really worried about picking up contamination on your hands and getting coronavirus and getting infected by it, then hopefully this would be a reassuring to you," says Kedl. "If you did happen to pick up the virus or anything else on your hands, if you apply this chalk, you will obliterate whatever infectious agent happens to be there."
Kedl's team isn't the only group testing chalk's role in preventing COVID-19's spread. The Association of British Climbing Walls published a press release to announce their own findings that standard climbing chalk was effective in reducing the amount of a virus on a climbing hold by 99-percent. The British team was not able to use the actual SARS-CoV-2 virus in their study. Instead they substituted human coronavirus OC43. Their full report will be released early this month.
Beyond COVID-19 prevention, Kedl also pointed to a broader benefit for 80-percent ethanol liquid chalk use:
"It doesn't take long staring at some gym holds after a full day of hundreds of people climbing on them and think, 'Oh, those are probably pretty gross.' If people are generally using this kind of chalk, the chances of maintaining a much cleaner gym environment are just going to be that much higher."