Unbelayvable Archives: Scary (And True) Tales From A Crag Near You
Heading out the door? Read this article on the new Outside+ app available now on iOS devices for members! Download the app.
Every Monday we publish the most unbelievable stories of climbing stupidity submitted by our readers. Below are the collected links to every edition of Unbelayvable. The list is updated as new columns are published.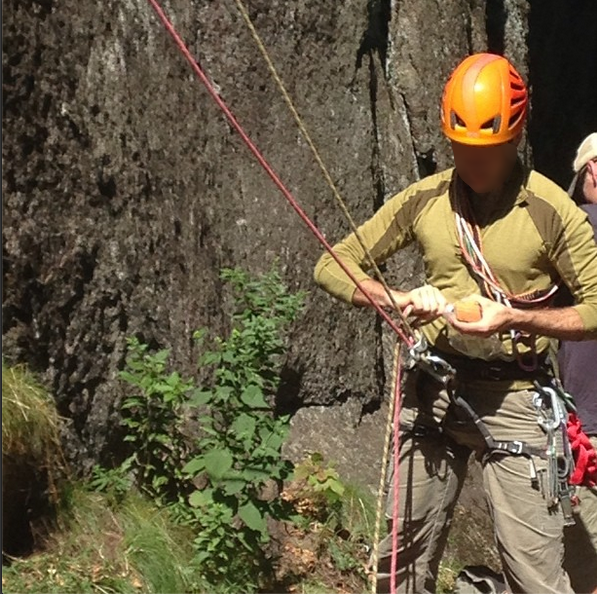 Unbelayvable: Bad Motivation (5/22/2017)
Unbelayvable: Oh, You Were Using That Anchor? (5/15/17)
Unbelayvable: A Rappel Lesson (4/24/2017)
Unbelayvable: Falling Weapons (3/13/17)
Unbelayvable: A Belayer Chocolate Break (2/6/17)
Unbelayvable: A Surprise Visitor (12/12/16)
Unbelayvable: A Missed Catch (11/28/16)
Unbelayvable: Downleading (11/21/16)
Unbelayvable: Unconventional Cam Lube (11/14/16)
Unbelayvable: Saved by the Pro (10/17/16)
Unbelayvable: Tunes Over Safety (10/10/16)
Unbelayvable: Alan, You're Off Belay (9/26/16)
Unbelayvable: Not for Climbing Carabiners (8/22/16)
Unbelayvable: The Wrong Kind of Cord (7/18/16)
Unbelayvable: The Large Man Anchor (7/11/2016)
Unbelayvable: The Entire-Rope Anchor (6/20/16)
Unbelayvable: Learning on the Fly (6/13/16)
Unbelayvable: Ledges and Slack (6/6/16)
Unbelayvable: A Toprope of Dubious Quality (5/23/16)
Unbelayvable: Don't Text and Belay (5/16/16)
Unbelayvable: A Bad Anchor is Worse Than No Anchor (5/6/16)
Unbelayvable: Don't Drown Your Belayer (5/2/16)
Unbelayvable: The Batman Descent (4/18/16)
Unbelayvable: Saved by the Quickdraw (4/11/16)
Unbelayvable: How to Save Money and Decrease Safety (3/28/16)
Unbelayvable: Questionable Guide Behavior (3/14/16)
Unbelayvable: Unclip, Unclip, Unclip, Uh Oh (3/7/16)
Unbelayvable: Eight Awful Words (2/29/16)
Unbelayvable: Extreme Toprope Whippers (2/22/16)
Unbelayvable: An Ice Climbing Confession (2/8/16)
Unbelayvable: Burned at the Anchor (2/1/16)
Unbelayvable: A PAS Freeloader (1/25/16)
Unbelayvable: A Questionable Belay Location (1/18/16)
Unbelayvable: A Rope Too Short (1/11/16)
Unbelayvable: Helpful Interference (1/4/16)
Unbelayvable: The Slackline Belay (12/7/15)
Unbelayvable: An Unintentional Toprope Solo (11/23/15)
Unbelayvable: Bolt Hangers Aren't Toprope Anchors (11/16/15)
Unbelayvable: Steep Routes and Swings (11/9/15)
Unbelayvable: Bad Gear, Bad Guy (11/2/15)
Unbelayvable: A Not So Pleasant Surprise Anchor (10/26/15)
Unbelayvable: A Terrible, Horrible, No-Good, Very Bad Anchor (10/19/15)
Unbelayvable: A Freesolo Moment on Toprope (10/12/15)
Unbelayvable: High Slack, Low Ceiling (10/5/15)
Unbelayvable: Who Needs an Anchor Tether? (9/28/15)
Unbelayvable: Two Terrible Anchors (9/21/15)
Unbelayvable: Swing Potential (9/14/15)
Unbelayvable: A Gym Fall Close Call (8/31/15)
Unbelayvable: A 20-Foot High Time Out (8/24/15)
Unbelayvable: Strong Climber, Terrible Belayer (8/17/15)
Unbelayvable: New Gear, No Idea (7/27/15)
Unbelayvable: The (Too) Simple Anchor (7/20/15)
Unbelayvable: How Not to Bail (7/13/15)
Unbelayvable: Gear Loops Aren't Strength Rated (6/22/15)
Unbelayvable: A Scary Noob Moment (6/15/15)
Unbelayvable: Rappelling Ain't Easy (6/1/15)
Unbelayvable: Little Kids, Little Rope (5/12/15)
Unbelayvable: Ascenders Aren't Belay Devices (4/27/15)
Unbelayvable: A Belay Too Comfortable (4/20/15)
Unbelayvable: A Pleasant Day of Topwebbing (4/13/15)
Unbelayvable: Car Doors Aren't Bomber Anchors (4/6/15)
Unbelayvable: One Sling on One Sharp Edge (3/23/15)
Unbelayvable: Toprope Soloing for Daredevils (3/16/15)
Unbelayvable: A Different Kind of Simul-Climbing (3/9/15)
Unbelayvable: The iPad Photographer (3/2/15)
Unbelayvable: How Knot to Rappel (2/23/15)
Unbelayvable: Overhand Knots and Little Girls Don't Mix (2/9/15)
Unbelayvable: Two-Minutes of Selfies (2/2/15)
Unbelayvable: The Art Project Anchor (1/26/15)
Unbelayvable: Bouldering is Not a Team Sport (1/19/15)
Unbelayvable: One Lucky Nut (1/12/15)
Unbelayvable: 5 Photos of Absolutely Awful Belayers (1/5/15)
Unbelayvable: The Best of the Worst of 2014! (Part 3)(12/29/14)
Unbelayvable: The Best of the Worst of 2014! (Part 2)(12/22/14)
Unbelayvable: The Best of the Worst of 2014! (Part 1)(12/15/14)
Unbelayvable: Don't Get Hurt or Mom will be Mad (12/8/14)
Unbelayvable: The Unwilling Leader (12/1/14)
Unbelayvable: Ridiculous Anchors Edition (11/10/14)
Unbelayvable: Skinny People Need Anchors, Too (11/3/14)
Unbelayvable: I Can't Belay You Right Now, I'm on the Phone (10/27/14)
Unbelayvable: How Not to Use a Grigri Edition (10/20/14)
Unbelayvable: The Bail Fail (10/13/14)
Unbelayvable: The Infamous American Death Triangle (10/6/14)
Unbelayvable: The Amazing Mom Belay (9/29/14)
Unbelayvable: Playing Catch With the Rope Mid-Route (9/22/14)
Unbelayvable: A $15 Grappling Hook From Amazon (9/8/14)
Unbelayvable: No Anchor, No Problem (8/18/14)
Unbelayvable: Extreme Rope Soloing (8/11/14)
Unbelayvable: Quickdraws Aren't Decorative (7/28/14)
Unbelayvable: The Case Of The Disappearing Belayer (7/21/14)
Unbelayvable: Little Climber, Big Harness (7/14/14)
Unbelayvable: Unnecessary Hip Belays (7/7/14)
Unbelayvable: Don't End A First Date By Decking (6/30/14)
Unbelayvable: Australian Special Forces Are Sieging Our Crags (6/23/14)
Unbelayvable: Bed Sheets Aren't UIAA Certified (6/16/14)
Unbelayvable: This Meat Anchor Isn't ERNEST (6/9/14)
Unbelayvable: Belayer Snack Breaks And Prusik Perils (5/19/14)
Unbelayvable: The Worst Belayer Ever? (5/12/14)
Unbelayvable: Phantom Belayers and Rappel Close Calls (5/5/14)
Unbelayvable: Bad Anchors And Bad Parents (4/28/14)