Choose Your Own (Training) Adventure: 10 On-The-Wall Climbing Workouts
An excerpt from our new book Climb to Fitness: The Ultimate Guide to Customizing a Powerful Workout on the Wall.
Photo: Kris Ugarriza/Red Wave Pictures
Heading out the door? Read this article on the new Outside+ app available now on iOS devices for members! Download the app.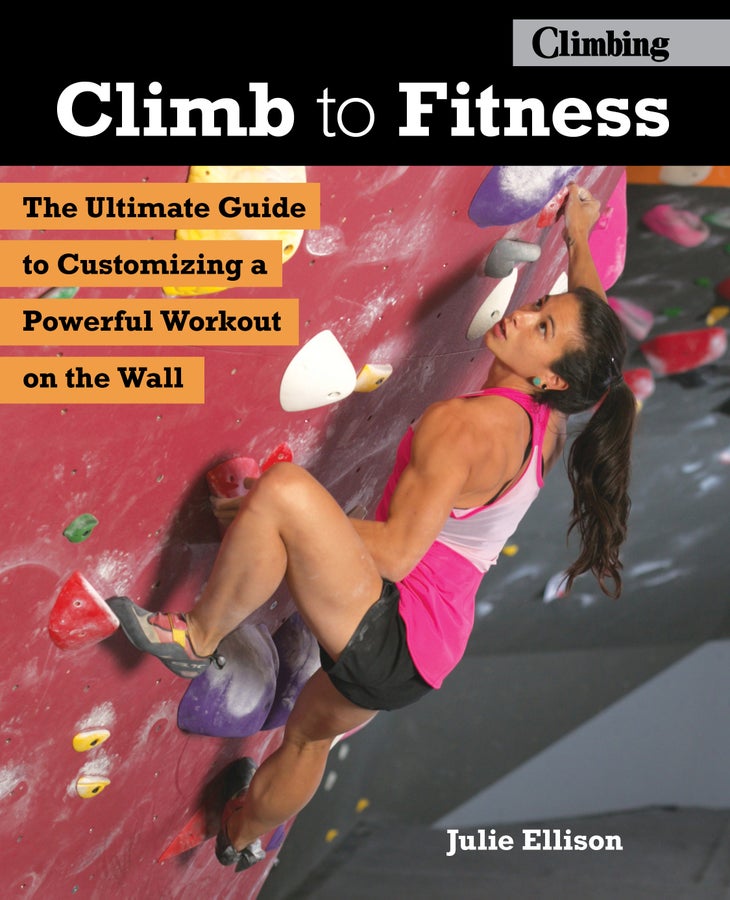 We've all been there: You know you should go to the gym to work out, but you don't quite know what to do once you're there. Plus, the cold, dark embrace of winter is seriously killing your motivation to train—when are you going to put these gains to use on the rock with all this snow anyway?
The key to staying psyched is to keep your climbing-gym routine fun and fresh, so we've compiled ten workouts guaranteed to keep you coming back to your favorite plastic paradise. They're geared toward specific fitness goals—strength or endurance—and they're organized based on other factors: how much time you have, if you're with a partner, how intensely you want to train, type of climbing (bouldering vs. roped), etc. Maybe you only have a couple of hours and want to get completely thrashed, or maybe you just want to move around a bit and loosen up. Whatever your situation—time, psych level, commitment, and partner availability—there's a workout here that's perfect for you.
1. Bouldering Intervals
Trains: Power-endurance
Activity:  Bouldering
Intensity: High
Time required: Less than an hour
Can be completed with or without a partner
The focus of this exercise is power-endurance, or the halfway point between pure strength (power) and the ability to maintain that strength over time (endurance). In bouldering, this translates to linking hard moves without getting so pumped/powered-down that you fall off. Like other types of training intervals, the goal is to work really, really hard for short periods of time, and then rest completely to recover as much as possible. This is a great fat-burning workout!
The Workout
You'll need a stopwatch and, if you wish, a partner (nice to help you stay motivated and help with timing). The goal is to ascend five strenuous boulder problems in 5 minutes with minimal resting. The climbs should be near your limit, so it's OK to fall here and there. They should also be easy to descend, meaning you can drop off quickly from the top. This minimizes recovery time, which is important for homing in on power-endurance. Once the 5 minutes are up (regardless of whether you've sent all five problems), it's your turn to be timer/spotter while your partner goes. Do three (beginner) to six (advanced) rounds of these bouldering intervals. You can make a game of it by adding up the V grades of the five problems completed to keep a running score.
2. Lockoffs
Trains: Strength/power
Activity: Bouldering or roped climbing

Intensity: Medium
Time required: 1-2 hours
Can be completed with or without a partner
A lockoff is a static move in which you pull down hard on a hold with one hand until that arm is bent, staying engaged in that position to reach up with your other arm. This is essential in bouldering, where the holds are often far apart. As a rule, beginning and intermediate climbers can lock off near their shoulders, while elite-level climbers can sometimes lock off at their waist. The greater your lockoff strength, the farther you can reach and the easier long, static moves will feel. If you're a shorter climber, lockoff strength becomes integral to progressing through the grades.
The Workout
Find a boulder or sport climb you can do consistently—usually a few grades below your redpoint max. Climb the selected route and lock off every single move, hovering the reaching hand just below the next hold for 3 seconds (count slowly or have someone else count). This will force you to focus on the intricacies of each move so that your body positioning must be nearly perfect to execute efficiently. By the end of the climb, if you don't feel like you had to try hard, downclimb in the same fashion, pausing the hand that's reaching down to the next hold for 3 seconds. Rest a few minutes and move on to the next climb—do this for each climb, increasing the grade if you can. Aim to do two or three rounds of five problems or routes, giving your body 5 minutes of rest between rounds.
A note about autobelays and partners: Many gyms have autobelays, a device that automatically takes in slack as you move up so you can climb roped walls without a partner. Most of the roped climbing workouts here say they require a partner, but keep in mind that the autobelay can be your "partner" instead. 
3. Peter Pans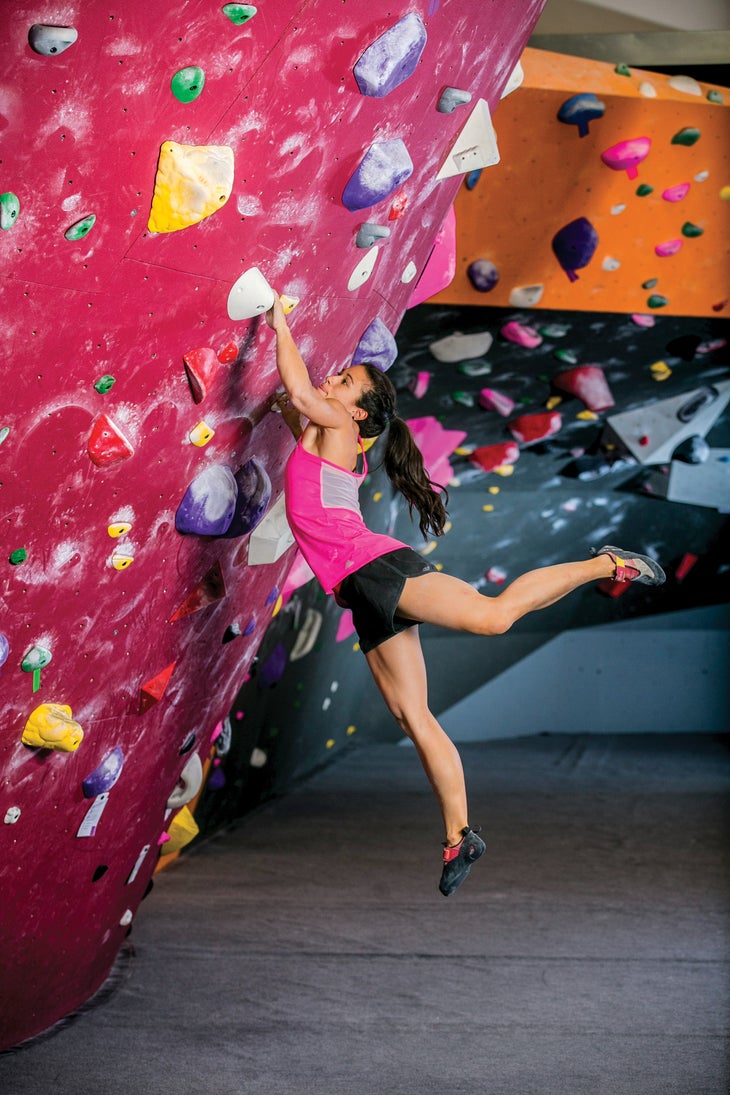 Trains: Strength/power
Activity: Bouldering or roped climbing

Intensity: High
Time required: Less than an hour
Can be completed with or without a partner
There are three things that will make you a better climber: core, core, and more core. Peter Pans are a great way to focus on core by climbing; no need to get on the floor and crank out a thousand crunches. Next time you get on the wall, imagine a line from your fingertips to your toes—you must keep every muscle in this line tight to stay on. This is called body tension, and a strong core is crucial for maintaining it. The basic idea behind Peter Pans is to execute standard climbing moves, but then intentionally cut your feet loose, which teaches you to react quickly and activate the correct muscles.
The Workout
Choose an overhanging climb with decent holds—i.e., big and easy to grip. For each move, cut both feet intentionally. Swing them off the wall and then back on. Make the next move, and then swing them off the wall and back on. Repeat for every move on the climb. Keep your arms slightly bent to engage your core; don't straight-arm anything. This workout will tire your body quickly, so you might not need as many climbs to get worked. Beginners aim for 10 problems when bouldering or 5 routes when sport climbing; intermediate/advanced climbers aim for 15 to 20 problems or 10 routes.
4. World Cup Simulator
Trains: Strength/power
Activity: Bouldering

Intensity: High
Time required: All day
Can be completed without a partner
This exercise takes the concept of the bouldering World Cup—hard problems with a time limit—and dials up the intensity and volume, so you'll have to keep your mental focus sharp as your body tires. You must execute under pressure while building power/power-endurance.
The Workout
Pick a project you'd have to work on for at least one full gym session to complete. Project that boulder problem for 15 minutes by trying it from the bottom until you reach a move that stumps you, then continue working from that move upward until you figure it out and/or send. Once those 15 minutes are up, you have 15 minutes to climb every problem in the gym that's several grades lower than your project. That's one set, with the goal of doing six sets total—with no rest between (you can rest between burns on your project problem). If you send the project before six rounds, pick another project and complete the sets with the new problem.
Let's use an example: Say you pick a V4 as your project. Work that for 15 minutes. Then climb every V1 within 15 minutes (at least five problems). If you fail at completing every problem in the allotted time, move on to the next projecting round.
5. Onsight Sessions
Trains: Endurance and power-endurance

Activity: Bouldering
Intensity: Medium
Time required: 1-2 hours
Can be completed without a partner
The goal of this exercise is to onsight a series of problems. The better you get at onsighting, the more your overall climbing will improve as you learn to hang on and read sequences. During the workout, resting time will be limited, so it's also a great way to build endurance quickly, as well as power-endurance. You'll be repeating the same problems multiple times, so this also helps you develop muscle memory.
The Workout
Find five challenging problems that you can feasibly onsight and try them one after another without resting. A good grade to aim for should be 65 to 70 percent of your max, so V5 if you've sent V7. You should be trying hard, but not so hard that you're falling repeatedly. After the five problems, rest for a few minutes, then do three more rounds on the same set of problems. If you fall off a problem in the first few moves, give it another go. If you fall off higher, move on to the next one. As you get progressively more tired going through the rounds, you should be able to compensate by relying on muscle memory.
6. Project, Push-Up, Pull-Up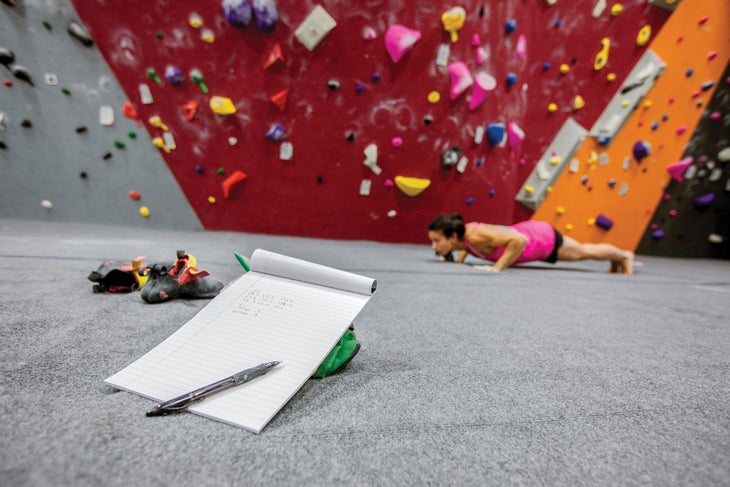 Trains: Power

Activity: Bouldering
Intensity: High
Time required: All day
Can be completed without a partner
A simple way to build power is to try difficult moves when you're already tired. This forces your mind and your muscles to dig deep and recruit that extra oomph, which will come in handy any time you're at your limit. It can also help you feel the difference between when you're just barely trying versus when you're really, really trying. Even on easy problems, bouldering is all about the latter, and you might find that you can do a lot more than you think if you just give it some grr.
The Workout
Find a project at your limit that you've never been on, isn't your style (e.g., if you're bad at slopers, make sure it has slopers), and is something you wouldn't mind putting effort into. This means you should enjoy trying it over and over. For 15 minutes, work on your project. When the time is up, you have 5 minutes to try to do 25 push-ups and 10 pull-ups—or as many as possible. That's one round. Do six rounds of this, so by the end, you will have put 90 minutes into your project and aimed for 150 push-ups and 60 pull-ups. Bring a notepad to keep track of your rounds. Get ready to suffer (in a good way, of course).
7. Leapfrog
Trains: Endurance

Activity: Roped climbing
Intensity: Medium
Time required: 1-2 hours
Must be completed with a partner
This is a creative take on endurance training for climbers of all levels. The basic idea is to climb, downclimb, and re-climb the same sections so that you are on the same route for a longer period than usual. The downclimbing will help your technique, while the re-climbing promotes efficient movement. Keep in mind that you'll need an attentive, patient belayer—a full session could take up to two hours, including rest time.
The Workout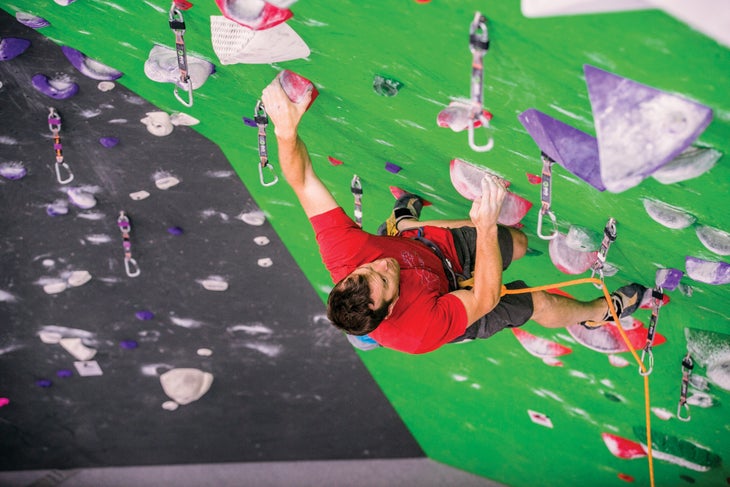 Pick a route two letter grades below your onsight level. If the first rep of the drill feels impossible or too hard, pick an easier route on which it feels possible to complete multiple reps of Leapfrog.
Start by climbing up the beginning of your chosen route, clipping the first three quickdraws. Once you've made the third clip, downclimb to the stance at the second quickdraw, being sure to mimic your previous body position here. Then, continue to climb upward to make the fourth clip. Once you have clipped the fourth draw, downclimb to the clipping stance at the third. From this stance, climb up to make your next clip.
Continue to the top in this fashion—each time you make a clip, downclimb to the previous quickdraw, settle into the clipping stance, then continue upward. Tag the anchors to complete your first rep, then lower off. Switch with your partner (your turn to belay!), then repeat the drill on the same route. It is OK to fall while doing Leapfrog—if you fall near the top, simply lower and count the attempt as one rep. If you fall off the bottom half, lower down one bolt and start again. After you have completed three Leapfrogs on the first route, take a nice long rest (about 15 minutes) then choose a new route and repeat the drill.
If this feels too difficult, try climbing the entire route, downclimbing to the midpoint, then climbing back up to the top. Once this is doable, build up to the complete Leapfrog. Also, you can do the drill on toprope or an autobelay, mimicking the clipping stances without making any clips or using markers like a certain hold or tape as your waypoints.
Rotating-Wall Training
Trains: Endurance and power-endurance

Activity: Rotating wall climbing
Intensity: Medium
Time required: 1-2 hours
Can be completed without a partner
Rotating climbing walls are perfect if you want to train endurance but don't have a partner. Most of these walls have adjustable angles and speeds to make things steeper and more difficult. There are plenty of ways to use a rotating wall—read on for two approaches.
The Workouts
8. Mega-Enduro ARC Sets
Using the Aerobic, Respiration, and Capillarity (ARC) principle, you will create more tiny blood vessels (capillaries) to carry oxygen-rich blood to your forearms and thus get better at staving off the pump. An effective ARC workout involves pinpointing the level at which you can sustain climbing despite feeling a low-level pump—roughly three to four letter grades below your redpoint. Flamed forearms are not the goal; a light pump is. Start your timer (or a podcast, playlist, or album that lasts the set duration) and begin climbing.
Aim for three sets of 20 to 30 minutes each, though you can also do two 45-minute sessions. Sweating and heavier breathing after about 10 minutes indicate the right intensity, but you should never feel at risk of falling. As you climb, practice inhaling through the nose then exhaling strongly through the mouth. Focus on efficient movement, and find counterintuitive rest positions, stems, highsteps, and holds where you need to alternate hands. Find a jug on the side of the wall within reach of the on/off switch to stop the wall and shake out for a few seconds periodically, without coming off. After each ARC session, rest on the ground for the same amount of time you spent on the wall, or until the pump has subsided.
9. Intervals
Intervals are ultra-high-intensity training, meaning you should barely be able to finish each set—going full anaerobic. Once you see improvements, you can increase the wall's angle or add a weight vest. For best results, complete this workout twice a week, with one or two rest days between sessions.
Map out a 30-move route. Pre-run the route to ensure that the moves are at a high intensity—think hard flash or onsight. Complete the route five times, resting 2 minutes between laps. Monitor your heart rate during intervals, aiming to keep it at or below 90 percent of your max. (The average max heart rate for 20-year-olds is 200 beats per minute, for 30-year-olds 190 bpm, and for 40-year-olds 180 bpm.) Climb steadily and precisely. Focus on proper breathing, grabbing holds well, and precision hand and foot placement. This will translate to better performance on difficult projects later.
Rotating Wall Tips
Pad well, with 4–5 inches of dense foam.
To up the ante, wear a weight vest. Start with between 5 and 10 percent of your body weight. Add weight up to 15 percent of body weight. When that becomes too easy, change the hold sequence or steepness
For longer routes, number the holds in addition to having them color-coded or taped—doing so lets you "skip" holds on the fly, keeping you from gravitating toward the same sequences.
Keep a stopwatch or smartphone with timing app handy. To stay cool as the pump mounts, use a fan.
Why do we get pumped? Feeling pumped means the muscles in your arms aren't getting enough oxygen-rich blood, which helps muscles create the chemical ATP efficiently. ATP is required to release muscle fibers after they've been contracted, so if there isn't enough ATP available, your muscles can't relax. This is why you have a hard time opening and closing your hands when you're pumped. Once muscle fibers lock up, they squeeze the tiny blood vessels (capillaries) in your forearms shut, which means less oxygen reaches other fibers as well, and the pump grows in a vicious cycle. 
10. Pyramids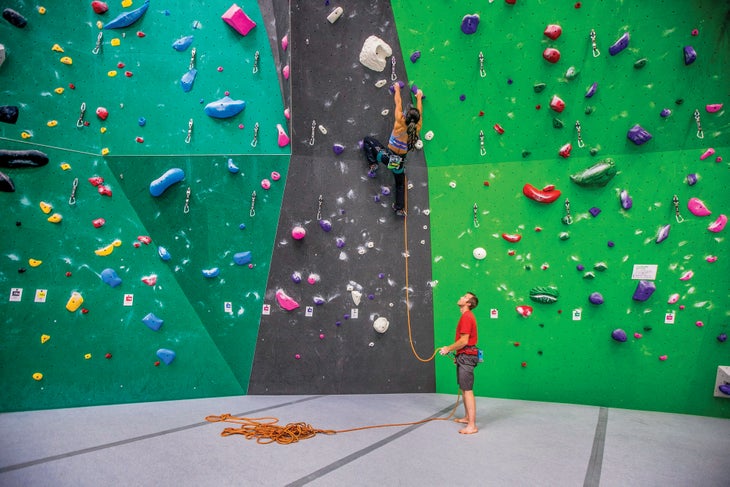 Trains: Endurance

Activity: Bouldering or roped climbing
Intensity: Medium
Time required: All day
Can be completed with or without a partner
Every climber's résumé looks like a pyramid, where the bottom is a solid base of easier climbs and, as you go up, fewer hard climbs. Getting better is all about mileage, so if you're having difficulty on harder grades, it's always worthwhile to go back and climb more easy stuff. The wider your pyramid base is, the stronger your foundation and the easier it will be to add more ticks to the top.
The Workout
Pick a number grade you feel consistent with. If you're a solid 5.11 climber, then go with 5.10. Without untying or resting between attempts, climb 5.10a to 5.10d, then back down from 5.10d to 5.10a. If you fall below a route's halfway point, start that route over and try to complete it, and then keep moving through the pyramid. If you fall again below halfway, move on to the next route. If you fall above the halfway point, count it and move on. By the end of the pyramid, you should have climbed eight routes without rests in between. Rest at least 15 to 20 minutes, and then go another round. Advanced climbers can shoot for three rounds. Below are some examples of what a pyramid might look like:
5.11 climber: 5.10a, 5.10b, 5.10c, 5.10d, 5.10d, 5.10c, 5.10b, 5.10a
V8 boulderer: V4, V5, V6, V7, V7, V6, V5, V4.
This is an excerpt from Climbing's new book Climb to Fitness: The Ultimate Guide to Customizing a Powerful Workout on the Wall (Falcon, April 2018). The book features dozens of workouts geared toward beginners and experienced climbers alike, plus supplementary training (campus, hangboard, etc.), cross-training, and full-body fitness. Visit Climb to Fitness for more info and links to buy.