Learn This: Big-Wall Meal Planning
Heading out the door? Read this article on the new Outside+ app available now on iOS devices for members! Download the app.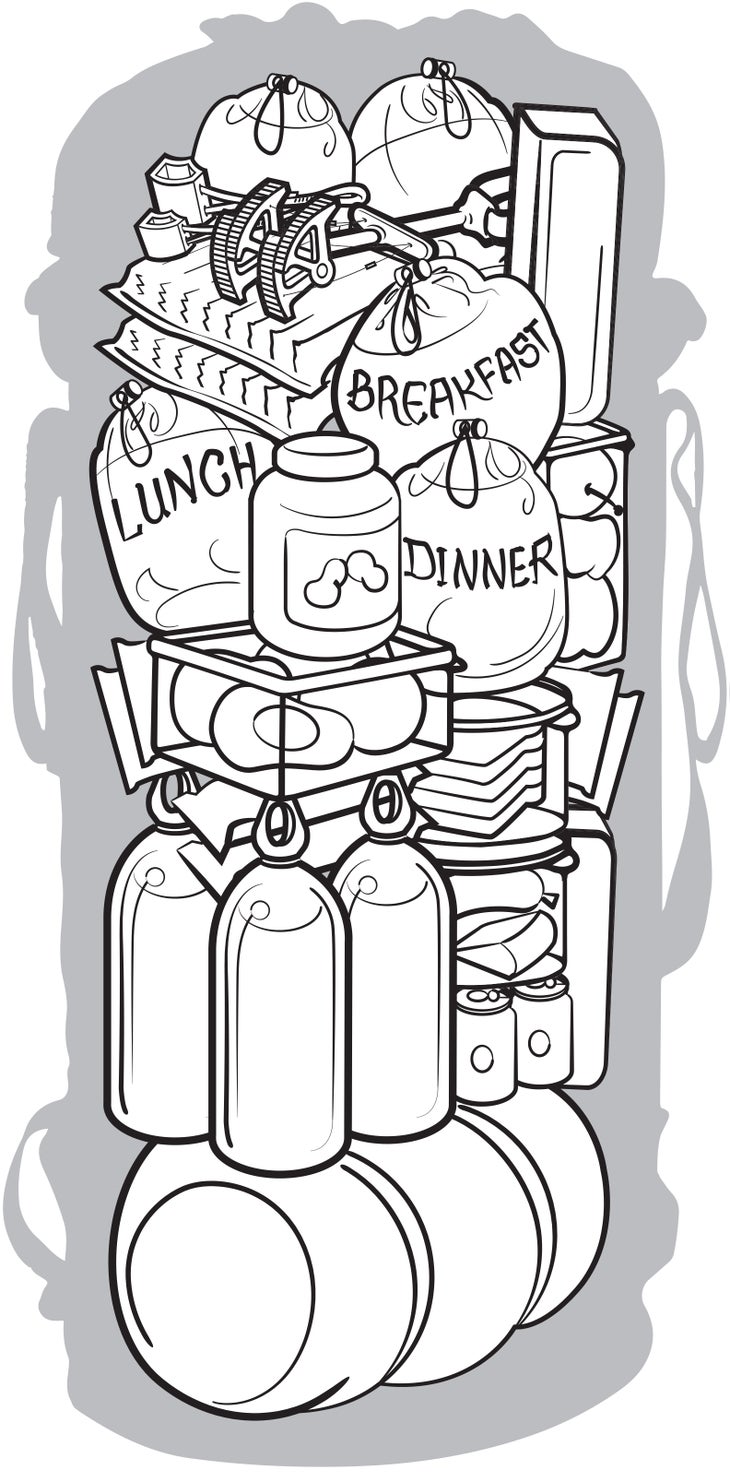 May 2014: I collapsed onto Grand Terrace, 1,200 feet above the Valley floor, 20 hours after starting up the West Face of El Capitan. For the remaining 600 feet of climbing and the long descent down the East Ledges, my partner and I had only 240 calories between us in the form of an energy bar, plus a half-liter of water to drink. With rumbling stomachs and dry mouths, we finished our first excursion on El Cap. On my next 10 big walls, from the Salathé Wall to the Nose-in-a-day, I developed an effective food strategy. Read on to learn how to stay fueled and properly hydrated, and pack nutritious, easy-to-prepare foods for big-wall climbing.
Big-wall climbing demands energy
With days stretching upward of 12 hours on a big wall, our bodies demand anywhere from 3,000–6,000 calories. While the temperature, humidity, climbing intensity, and your body type will affect your caloric needs, start with a baseline of 3,000 calories per person per day. To customize, track your caloric intake on a long day of multi-pitch climbing—this will give you a rough approximation of your caloric requirements on a big wall.
You also want to strive for a mix of roughly 70 percent carbs, 15 percent healthy fats, and 15 percent protein, which research shows is ideal to optimize recovery. The carbs provide a rapid source of energy, the protein helps muscles rebuild, and the fats help to sustain energy throughout the day. A few examples of foods that provide a good mix of macronutrients include apples with nut butter, trail mix, and salmon packets with bagels. (For more suggestions, see "Proper Fueling" below.)
Pack variety
While eating nothing but peanut butter for four days straight may seem like an efficient way to pack in the calories, you'll likely have palate fatigue by the end of day one. Plan variety to prevent burnout on any one particular food. Even if you love dried mangos, mix them up with dried apricots, apples, and bananas. Packing small quantities of varying types of food will give you options and guarantee you always have appealing snacks on hand. After all, having food you look forward to eating is a great motivator to power through that last crux pitch of the day.
Keep cooking simple
While every wall climber should enjoy a hot meal 2,000 feet off the ground at least once in her wall-climbing career, consider leaving your stove and fuel behind—after a day of climb, haul, repeat, firing up the stove often becomes another chore. Instead, pack ready-to-eat meals like Tasty Bites, Indian curries, and canned soups that can be eaten cold but are still big on taste.
If you do bring a stove, you can boil these same ready-to-eat meals for a hot dinner. Pack an easy-to-use cooking setup, such as a Jetboil Flash or MSR Reactor with a hanging kit.
Pack strategically
Once you've planned out your rations and purchased your meals, practice packing your haulbag to dial in your system and keep your food protected. There's nothing worse than tossing an avocado into your bag only to have it turn to guacamole after a long day of hauling.
A few tips: Separate breakfast, dinner, and snack foods into individual stuff sacks. Pack breakfast and dinner sacks toward the middle/bottom of the haulbag and keep your snack foods accessible on top (and/or carry separately in a day pack—see below).
Pack delicate foods, such as apples or avocados, in rigid plastic containers to prevent bruising. Use containers that fit snuggly to minimize bulk, and fill any empty spaces with peanut-butter packets or bags of trail mix. After eating the container contents, use the container to pack out your garbage, including apple cores and avocado skins.
Eat delicate and perishable foods, such as fresh apples or pre-made sandwiches, first. Save durable items, including canned soups and pre-packaged meals, for the second half of the climb.
Keep fueling
While wall climbing, you need to do more than just pack ample calories and hydrate; you also need to eat and drink them. On hard leads, hours can pass in minutes, while minutes screech to a standstill for the belayer. Incorporate proper fueling into your routine to maintain energy. Have the second carry a small backpack in order to easily access snacks and water. If you're leading, keep dried fruit or trail mix in your pocket. At the start and finish of each pitch, have a bite of food and a sip of water. Aim to consume at least 100–200 calories per hour depending on your needs. There's almost always work to be done, but if you find yourself waiting for your partner to rack up or lower out the pig, eat and drink.
Proper fueling
Fueling properly directly impacts performance, not only giving you the energy you need to climb but also helping your body to recover so you can continue to climb day after day on a strenuous wall. Below is an example of a three-day meal plan for one climber:
Day 1
Lunch/Snacks
Pre-made burrito or sandwich
Dried mangos
Trail mix
Dinner
Pad Thai Tasty Bites
Piece of dark chocolate
Day 2
Breakfast
Granola with powdered milk
Canned pears
Lunch/Snacks
Apple
Trail Mix
Bagel, peanut butter, and honey sandwich
Plantain chips
Jerky
Bobo's Lemon Poppyseed Oat Bar
Dinner
Bagel, cheese, avocado, tempeh/salami sandwich
Chocolate-chip cookies
Day 3
Breakfast
Tortilla with peanut butter, honey, and trail mix
Fruit cocktail
Lunch/Snacks
Olives
Banana chips
Pro Bar Meal
String Cheese
Dried apricots
Clif Nut Butter Bar
Dinner
Taste of India Chana Masala with pre-cooked rice
Chocolate-covered raisins
Packing your haulbag
Inside your haulbag, separate meals into individual stuff sacks, pack delicate
foods in containers, keep snack foods on top, and fill any empty spaces with peanut-butter packets, trail-mix bags, etc.
Gina Freund has spent years climbing around the United States. After graduating from college in New England, she traveled to Yosemite, climbing on El Capitan—and learning through trial and error to bring the right wall food.