Heading out the door? Read this article on the new Outside+ app available now on iOS devices for members! Download the app.
7 tips to head off an alpine epic at the pass
The pitches flew by on Polar Circus, our one-day Canadian Rockies winter objective.
So when my partner said he'd forgotten his headlamp, I didn't sweat it. Then, a few hours later, I dropped our shared thermos (bummer). But when my
crampon
's toe bail snapped and a falling rock halved our ropes, our day climb morphed into a grovelfest replete with unplanned bivy.
Take bad luck, mix it with a few errors, throw in rough conditions, and — Voila! — you have the muck from which grows many a world-class disaster. Still, there are small, basic steps you can take toward epic avoidance, especially on long alpine routes. Your first line of defense will be intuition: if at any point you feel something ain't right, take a few minutes to evaluate. Maybe it's just butterflies . . . or maybe it's your Spidey Sense clueing you into those heat-seekers the Reaper just let loose. In any case, there's no shame in retreat. The next line of defense will be a little thoughtful care, as outlined in these seven simple tips.
1. The Gear List
Nothing will forfeit a climb faster than spacing key gear (
harness
or runners) at camp. But forgetting a seemingly "nonessential" item (headlamp, spare pick, lighter, etc.) might also lead to an epic. To be safe, write up a gear list, checking off each item as you pack, to ensure your goodies are in. Also,
always
bring a small knife, essential on multi-pitch routes for cutting manky slings out of fixed anchors or slicing the rope should it become damaged by rockfall or stuck in a crack.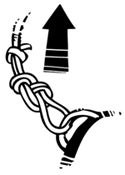 2. Preflight Preload
Considering how fatigue, gloved fingers, dehydration, and icy ropes can reduce dexterity and concentration, who knows what'll come of an attempted figure-8 or bowline tie-in. So make a habit of giving the rope a tug below each freshly tied knot — if it's bad, the tug-test will tell you. Also, periodically check your knot on the fly if using new, wet, and/or icy cords.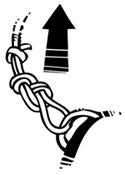 3. "Fixed" Anchors
The daily freeze-thaw cycle on high-altitude routes plays havoc both on fixed pitons and removable placements. In Canada once, I reached a three-piece, fully equalized anchor, grabbed the sling . . . and pulled the system from the rock. In another case, my partner pointed out I'd built my "textbook" anchor behind a giant, loose pillar. Ergo, when not 100 percent sure of an anchor's reliability — be it existing or your own — back it up or seek another option. The best (safest) belays aren't always the most comfortable, either.
4. Back up the Brakes
While there are many ways to back up rappels, the best I've seen is a friction hitch, sliding along the rope(s) itself below your brake hand. (
Rock Climbing: Mastering Basic Skills
, by Craig Luebben, is an excellent book for this tip and others like it; order at
.) It takes about five seconds to rig and doesn't lessen the rappel "experience." When rapping in a storm in Cody, Wyoming, my partner lost control of the slippery 9mm ropes. However, with a friction hitch in place, he averted disaster, quickly righting himself and carrying on after the knot checked his slide.
5. Loose-Block Lambada
When possible, climb around any death cookie or suspect hold without touching it,
and
warn your partner. If you must pull on a suspect flake or block, be gentle — never pull out. Placing gear nearby, to route the rope out of the line of fire, is a smart move, too. (You can also relocate the belay.) And remember: spring is a notorious time for once-solid blocks to dislodge as the freeze/thaw loosens them.
6. "That's right, Iceman. I am dangerous."
That guy you met at the rock gym seems cool, but still, it's not the best idea to break in your partnership on, say, Baffin Island. Instead, start slow, with some local cragging or a weekend trip. Once you've had a few successful (read: non-epic) climbing days, bump up the commitment grade. Remember, you're really trying to determine what will happen to your partnership in the face of adversity. Will it bring out the best . . . or the worst?
7. Say What? Speaking of new partners, when you're climbing with someone new, take a preflight minute to sort out a communication system. For example, does "Slack!" mean "I want slack," or "Pull up the extra slack"? (I was once yanked off a traverse by this mix-up.) Same goes for the slippery "Take!"And, finally, what do you do when you can't communicate verbally at all, due to wind or terrain? It doesn't matter which method you use to telegraph intent, as long as you're both speaking the same language. Contributing Editor Dave Sheldon has not suffered an epic in more than five years, leaving him, he says, with not enough to write about.Contributing Editor Dave Sheldon has not suffered an epic in more than five years, leaving him, he says, with not enough to write about.