Sleeping Bag Review – No 228 – March 2004
Heading out the door? Read this article on the new Outside+ app available now on iOS devices for members! Download the app.
Sunrise … will you be warm and rested or frozen stiff?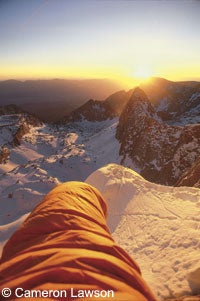 Super light sleeping bags
Test Results
Exped Sparrow Feathered Friends Merlin Marmot Hydrogen Mont Bell Ultra Light Down Hugger #4 Moonstone 800 Lucid Mountain Hardwear Phantom Mountainsmith WhispWestern Mountaineering UltraLite
There's only one thing worse than waking up cold at 2 a.m. and realizing you've got four full hours of shivering to do before dawn: Watching the sunset knowing you'll be freezing all night long. I've managed to do both, and although drills like shadow boxing and repeated rock lifting help, the heat generated from these desperate acts never seems to last the duration of a 15-minute time check. Factor in the resulting wasted calories and lost efficiency while climbing the next day, and the decision to climb with a sleeping bag becomes an easy one, especially when you consider that most of today's ultralight bags weigh in under two pounds and pack down smaller than a bread loaf. To that end, we gathered all the ultralight down-insulated bags on the market, made sure they had full mummy hoods; were equipped with at least a half-length zipper; were rated between 20 and 36 degrees Fahrenheit, and weighed them on our certified postal scale. Any models that exceeded our one pound, 15 ounce limit, we handed back to the UPS man. Our insulation of choice for a one- or two-bivi route is, naturally, goose down. Its incredible warmth-to-weight ratio and compressibility make it the obvious pick when every additional ounce in your pack can mean the difference between failure and success. Synthetic insulations excel in wet weather, but the bulkier package size and heftier weight are not light-and-fast friendly. Down is also incredibly durable. Treat a down bag right and it will last 10 years. Feather bags also have a natural comfort range that synthetic bags lack — the hairs on the down clusters react to temperature changes. As the mercury drops, the hairs stand up and the loft increases, while in warmer temps the hairs relax. And though your average rocks-for-breakfast alpinist would never admit it, nothing beats the comfy feeling of zipping yourself into a pile of feathers after a long day. Fill power. This is really a measurement of density, or how many cubic inches one ounce of down can fill. It's also the simplest way to judge down quality: As the percentage of down clusters increases and feather count decreases, up goes the rating … along with the price. All of the world's high-end goose down comes from Eastern Europe (particularly Hungary and Poland) where processors gather, clean, and test it before selling it to a manufacturer. Once the manufacturer has the down's rating verified by an independent lab, it's stuffing time. Bear in mind, however, that labs don't measure down in exactly the same manner, and slight measuring-process variations will result in different ratings for the same down sample. Every bag we tested uses comparable premium down and their respective fill ratings can safely be ignored. Shell materials. Still worried about the worst-case scenario of soaking a feather-filled bag? All of the models we tested utilize very advanced shell materials. Pertex Quantum and its slightly heavier brother Pertex X-Ray 1.1 are popular choices, with a tight weaving that packs their fine threads close together. The end result is a very wind- and weather-resistant, ultralight microfiber fabric. Dimension Polyant Airnet, used by Mountainsmith, is a similar fabric to Quantum, but weighs a shade less. Mont Bell's Ballistic Airlight and Mountain Hardwear's Superlight 15D fabric also fall into the superlight category. Feathered Friends shells with Epic, a lightweight nylon in which each thread is permanently encapsulated with a water-resistant, silicone-based polymer; the other fabrics listed above get a more standard durable/water-repellent (DWR) treatment. Although abrasion and general use will degrade a DWR, it takes a while before you notice a drop in performance, and even after 20 commercial-grade washes, 80 percent of the DWR should remain. It will take a very damp snowstorm to wet out any one of these high-tech sacks, but be wary of sharp objects when you get ready to bed down. These weight-saving nylons are not as tear- or abrasion-resistant as standard shell material. Baffles. Open or continuous baffles (the individual down-filled segments of a bag) allow the fill to be shifted between the top and bottom of the bag. This comes in handy when you're feeling cold — move extra down to the top and you'll quickly notice a difference. If you're running hot, reverse the process. Some manufacturers close the baffles by sewing a divider between the bag's halves, ensuring that the insulation stays evenly distributed and warms consistently. Overall, we consider open baffles key for versatility in the alpine and our grades reflect that. Another great feature to look for is a baffle that encircles the hood or face opening. This simple addition keeps the drawcord off your forehead or chin, and dramatically improves a bag's comfort when you cinch the hood tight. Zippers. The zip plays an important role in determining a bag's comfort and usability. Full-length zips give you the best venting options and help to fight off claustrophobia. Half-length zippers shine due to their weight savings, but limit venting and rule out zipping your bag into your partner's. Three-quarter-length zippers are a nice compromise; they save a bit of weight yet keep claustrophobia at bay. Zipper reliability can also make or break a bag. No one wants to unsnag a jammed zipper via headlamp in the middle of a frigid night. Temperature rating. Accurately grading a bag's warmth is not easy to do. Hit the sack with a belly full of mac and cheese and you might find yourself sweating all night long. Conversely, bedding down tired and dehydrated will set you up for a chilly bivy, regardless of your bag's rating. Considering these unpredictable variables, we did not attempt to declare a "warmest bag" winner. Comparing fill weights is a reasonably reliable way to compare one bag's potential warmth to another's, but doesn't tell the full story. A larger, roomier bag with the same fill weight as a smaller bag will not be as warm because the insulation is dispersed into a greater volume. To their credit, all the bags we tested were comfortable within their listed temperature range.